My job - yes I'm thankful for it, but still! - has been murder lately.

I've been working six days a week, 10 hours or more a day.

Yes, the money is nice. The chance to put it in the bank and all would be nice, too. (My place of work doesn't offer direct deposit yet.)

So stitching has been really, really slow.

And there is no end in sight - my direct supervisor had carpal tunnel surgery on one wrist, and has to have the other done before the end of December so she won't have to pay her deductible next year.

Until she's back, my job will remain like this. I don't know if I'll be able to get my Christmas prezzies done, forget about my poor Angel of Grace. I haven't finished my SIL's shawl because I ran out of beads - I did start (and nearly finish!) my Mother's shawl. I've also barely started my grandmother's shawl. I have no pics of any of those yet.

But I do have some small amounts of stitching to show!
.
For example:
.
A very small Gingerbread Cottage as my November ornie. It was supposed to have French Knot snowflakes, but I like it better without them. It's busy enough as it is.
.
.
When I asked my brother what he wanted stitched for his present, he actually had an answer!
.
A very weird one...
.
I'm stitching a logo from something that I don't even know what is, called Demonhunter? I think.
.
So yeah.
.
A cross-stitch demon...
.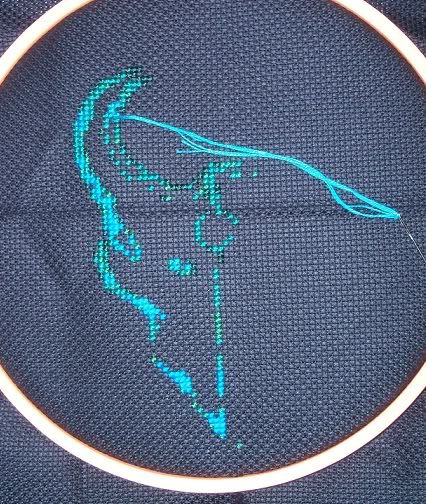 .
"Boys want the weirdest things," she said, ignoring the large pictures of Vash the Stampede and Spike from 'Buffy' that are hanging on her wall...
.
Here are my last Crochet-Along afghan blocks:
.
.
I'm about two blocks behind - the next one is super simple, a big granny square. I just haven't gotten around to it. Then the last blocks are a flower block. After my sister's wedding necklace, I shouldn't have trouble, but I've never crocheted a flower block before. I've got to catch up! I still need a few of those mitered squares, too.
.
And I have decided to stop wishing I could knit, gather my books and needles, and make myself really do something besides a scarf.
.
I'm going to try Bernat's Knit-Along afghan since I'm also doing the Crochet-Along.
.
Here are the very badly knitted, in desperate need of blocking, three squares done to the first pattern:
.
.
The middle one was the only one that showed the pattern in the picture. I decided to do every block in a different shade of blue - if my stash of blue yarns holds out!
.
The crochet and knitting I can actually do at work, during lunch, but taking the cross stitch is tougher. It's so much smaller, and yet so much easier to get dirty... I dunno why.
.
.
Thanks for visiting my blog!
~Tama