EEK!
I've seen on a lot of blogs in the last day or two that HAED (Heaven and Earth Designs) is considering closing down because of copyright infringement, although I haven't seen any notice on the actual site.
That's horrible, because even though I own waaaaaaaaaaaay too many of those patterns, there are waaaaaaaaaaaaay too many more that I want! Even scraping my list down to the minimum, there are about thirty (yikes!) Mostly Marta Dahlig, Adele Sessler, and Laura Prindle.
So a lot of people are getting together for a HAED appreciation week - it's on facebook, which I don't have, so I just decided that, even though I have quite a few HAEDs on layaway right now, that I'd go and get one more just to help out a bit, just in case!!!
I've also been seeing this girl on a lot of blogs, and my sis the Goth Chick really likes her, oddly enough. So even though she's not really my usual, I bought Hannah Lynn's QS Clara: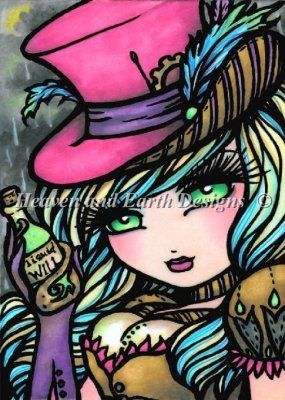 I won't be starting her until next year at the soonest, but I wanted to show some support!
PS - Although I don't know if there will be a Freebie SAL in 2013 if the site were to close, now is a good time to sign up at the HAED Bulletin Board (the link is on the main page of the HAED site) so you can join if there is one! They close down taking in new members on the BB just before the sign-up is posted, and I think it was in late September or early October the first time I joined, so there's no telling when it may be this year.