Back in July, when I was working on the little stocking ornaments at work, a co-worker commented that it was 'awfully early to be doing things like that'.
This week, when I was working on a Santa during breaks, the same co-worker commented 'it's getting about that time, isn't it?'
And yikes! Is it ever! Where did this year
go
?!
Here's the progress on Santa, by the way.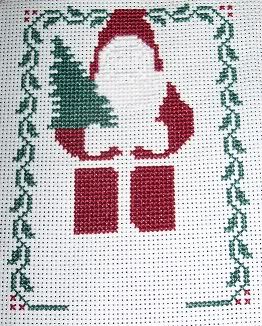 A few more lunch breaks and he'll be done.
By the way, thanks for the comments on my last post! Can't get signed in to blogger (it'll let me post, but if I'm on an actual blog, it says I'm not signed in) so I can't reply. I do plan to have the HAED framed - I know a little bitty place that does plain, simple framing, which is what I want for her, at ridiculously cheap prices. I have Bent Creek's 'Mom' and the chibi-Snape I stitched there right now, and it's gonna be $27 plus tax. For both, not each. I'll be taking the mermaid in next week.