Sorry, sorry! I have been gone all day! No chance to post until now.
As usual, I worked on Nostlagy for my IHSW project - I can't wait to get my half-page done and get back to Lovers, though. For some reason it is so much more fun to work on! I'm not sure why.
Anyway, here is QS Nostlagy last IHSW: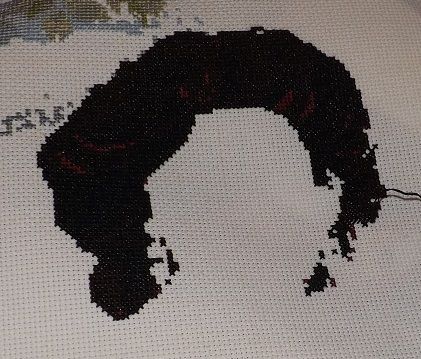 I finished her hair! I think.
I know I finished all the three main colors, fixed a few mistakes, and then I did two needle-fulls worth of brown confetti stitches around the main colors. There are probably more shades of brown to go, but I decided to go back to the background for now. I know that looks like the hoop-mark left holes in my stitches, but it's just the light reflecting off the floss. It's not as bad as it looks! The mark will go away when I wash and press her.
Par for the course, I did not have much time with her this weekend, but I did get a little of the background done, too. This is how the project looked on Sunday:
I also worked on three afghans at various times. I will have an afghan done sometime this week! The pretty green one. I will take some pics of the others when I photograph it.
Off to check other blogs now!