Here is my April motif on Mary Wigham - I stitched the black half basket, since there are so few days in April left!
This pic is the closest I've come to the true colors of the floss, although it washed the pink motif and the fabric out just a little.
Also, here is my first 10 hours on
'Lost in You'
. A little over 1150 stitches... and it's sooooooooo tiny!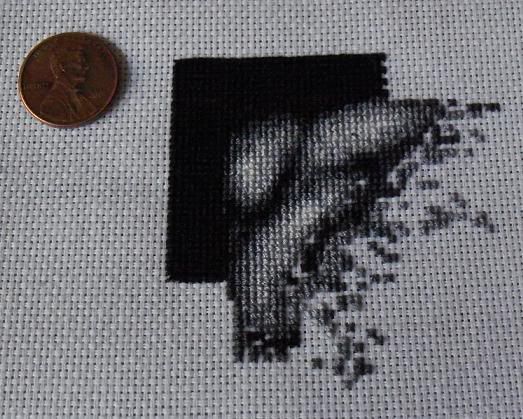 I'm stitching it 2 over 1 on 22ct. It's not as uneven as it looks, it's very smooth. I guess the light caught it oddly. Sorry about the penny, I wanted to show someone how small the stitches were, and when I took it off to take another pic, my batteries went dead XD I think that's also why both pics are a wee bit dark. Ah, well, still learning about the new camera!
Only 238,850 stitches to go!
*dies*