Hope you guys who celebrated Thanksgiving yesterday enjoyed yours. We did. Nummy food!
A few weeks ago I won a contest on
Bev's blog
- guess what pattern she was stitching and win one from her
website.
I chose this one:
'Allure'.
Pretty, yes? It doesn't look like it would take too terribly long either, which means I'm seriously considering starting it in 2013. Not in January, though.
And payday meant another WSnB pattern:
'Look!'
Their skin is charted to be Baby Blue - DMC 3756. Weird, but that's from the actual picture, not a charting-program mishap.
Anybody buy anything during the HAED sale? I've been so good! Only one more off the Hannah Lynn List-O-Doom (tm)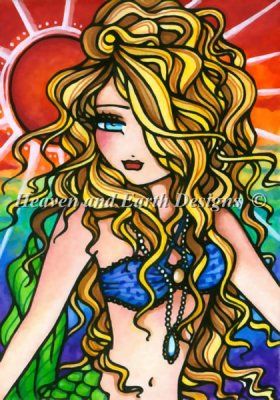 QS Rae
Just for the heck of it, the other un-purchased ones on the list are (QS) Darcy, Crabby Crush, Allyson, Genevieve, Daffodil Springs, Nina, and Rosita (and she's thinking about five or six others...yeesh) and regular-sized charts Vixen, Fisherman's Catch, Maui Princess, and a few others she's eyeballing. That's why I call it the List-O-Doom. I ought to call it the Ever-Growing List-O-Doom. I
must
teach her to stitch! Otherwise I will be stitching Hannah Lynn's until the day I
die
.
For a tiny finish - I thought I had finished this already, and misplaced it, kinda like that Angel before? But no, it was still in the little project bag I carry to work, with only half the backstitch done. So I finished it up. I really like the way this one turned out. It's very pretty. This picture does not do it justice! The colors are very bright and vivid.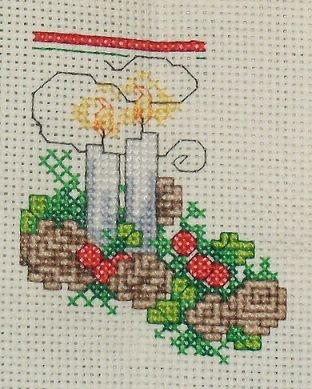 Also, it is not crooked XD
The next two stockings in line on the pattern sheet are a Santa and a Baby Jesus - I haven't decided which I'll stitch in December.
On the Eagle I am about 3/4 (maybe) of the way through the white. I knew there was a lot, but it feels endless. All of the 3/4 stitches in the stars are
not
helping. It's difficult to see if they are placed correctly even with my very bright stitching lamp on.
But I'll persevere - because I've less than a month to get the blasted bird done.