It's cold here.
And rainy.
Rainy and cold.
And a little bit snowy.
and wet.
and, ya know, cold.
It's also raining.
...ah, November! how I love thee!
Anyway, since it's cold and raining - in case you missed that - I've been spending a little more time stitching. I'm soooooooo close to finishing my sister's wedding sampler!
It's Fantasy Wedding Blessing by Dragon Dreams
I finished the castle and most of the border and all the 'verse'. However, since it's cold and raining and dark and dreary and all that, I can't get a decent picture. So here are scans - I had to scan it twice to get the whole thing. Scanning makes it look crooked and wavy, but it's not. I promise.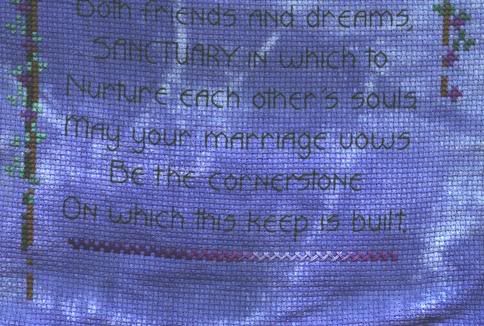 And here's a close up of the castle - I love this castle!!!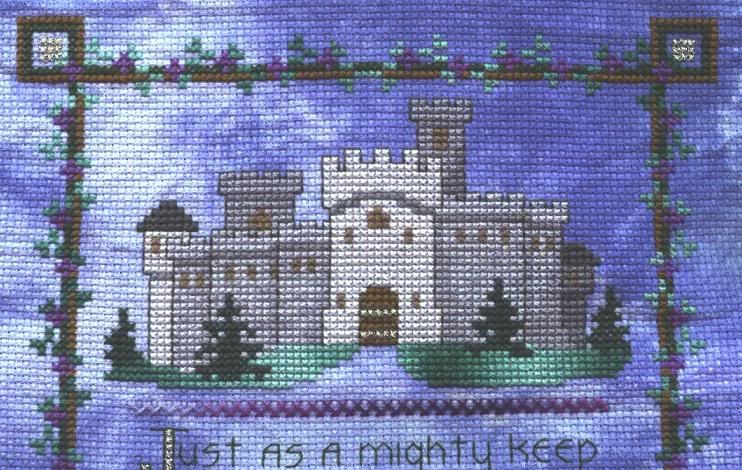 I really love this pattern-chart, too - it's beautifully done and very easy to work with! Now I have to make (more) changes to it, though; my sister doesn't want their last names on it. Long story, but they might end up changing their last name to his mother's name due to some issues with his father. Anyway, she asked if I could put their first and middle names instead. 'Sure,' I said. Well, 'Alison Irene' is pretty easy to fit, but his name is 'Robert Roosevelt.' Not so easy. I may have to leave off the charm and just put an ampersand. If I do that, it'll fit perfectly under the bottom line of herringbone stitch.
Then, my sis wants to know if I can put a little dragon on it, too. This, I'm not so sure about. I'm going to have to go through all my Dragon Dreams patterns and freebies and see if I can find a little one that will fit, because I don't have enough material to put a very big one. Hmmm... maybe I could find a little dragon charm to go on one side of the date, and a different fantasy-style charm to go on the other side? or a little heart? That might work!!!
**Edit** okay, so Blogger, being evil, has cut off the sides of the pics instead of resizing them. I refuse to try to figure out why. So I'm going to try turning them into links to my webshots album.