Saturday, April 11, 2009
First off, I need to apologize, sort of - my computer apparently has something against blogs right now - I can read everyone's updates in Google Reader but if I actually open the blog to comment - crash! goes my internet. Doesn't seem to matter what blog it is; blogger, blogspot, livejournal... occasionally one will stay open, but 95 times out of 100 ... and I have no idea why this is happening :C
Anyway! My January Retro Cat is done! Pardon the attack of the evil crooked-making scanner! I think this is so cute and I definitley want to do the rest of the series, though I plan to change some of the lil' sayings. This little bugger has over 3500 stitches in it, since I did the background, too, but it's only about 3x4.5 inches.

January Retro Cat
started 01/?09
finished 03/31/09
stitched on 18ct
pattern: freebie from cyberstitchers.com


I have also stitched the 'crown' on my Claddaugh:
And started a
fraktur
that I've been wanting to do for years but never got around to!
This is the first one and one/half motifs: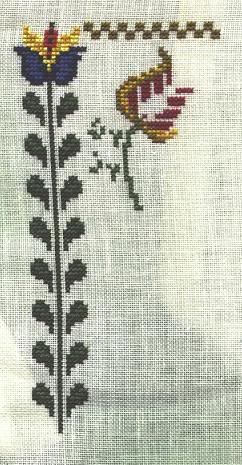 I'm a bit iffy about the fabric I chose - it's linen and very, very thin. I may restart - but I doubt it. I'll probably have it stretched over some sort of backing.
Hope everyone's stitching is going well, and Happy Easter to those who celebrate it!!!
Thursday, April 9, 2009
I'll try for a Cross-Stitch update tomorrow - my Retro kitty is finished (for over a week now, lol!) and I have some progress pics plus a new start.


But for now, some Crochet news!
I finished my Rainbow Ripple afghan - it's chair-sized, for my mum, who likes afghans on chairs and couches.
And I started another afghan - this one is a star. I started with a pattern I found online:
Then I decided to go my own way and add more points:
And this is my progress thus far: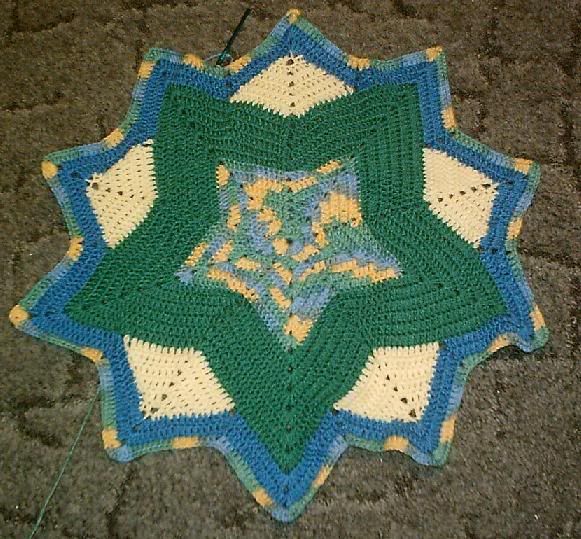 I have some kinks to work out, because it's not quite laying flat. Or it may need blocking - I don't know yet. I'm going to ask my grandmother, who is an expert! This is the first pattern I've ever designed on my own. I've seen six-point stars that people have added points to, but never a five-point. I like this much better :D
Last, look what I got at a local junk/goodwill type store!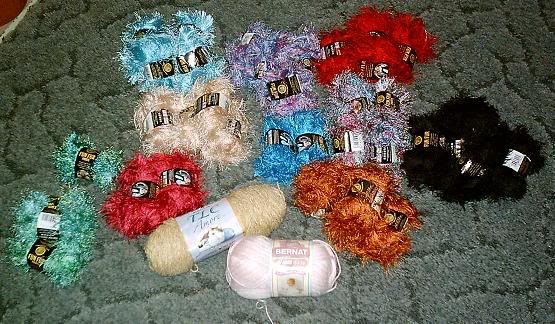 Doesn't smell like smoke, isn't dirty, and the skiens are completely full - and I got it all for $1 ! Yay!
My Shelfari Bookshelf