Here's what Frederick the Literate looked like at the beginning of his rotation slot:
and here's how he looks now:


For me, that's a pretty big chunk done! I think I liked working 'Owlbert' best (yeah, I named him) He was mostly blends, which I don't usually like, but he was just cute!
Next rotation (in February), I want to do the book next to Owlbert, finish the bottom shelf over to Owlbert, and then backstitch what I have done. Then Fred will be officially 50% finished!
And I started another project!
But it's not a stitching project. It's been a long time since I worked a jigsaw puzzle, but I really like doing them. Very calming after a stressful day, almost as good as cross stitch! I got several as gifts over the holidays, so I thought I'd start one - then I counted the unopened boxes - some gifts, some I bought over the past year or two - and I have fourteen puzzles I've never done! So I decided to see how many I could get done before Spring. I'm way out of practice, so it's slow work so far. Especially on my first choice, a puzzle of Oxtounge Falls. I think that's in Ontario. Anyway, it's mostly water, so yikes! Here it is with the edge pieces put together: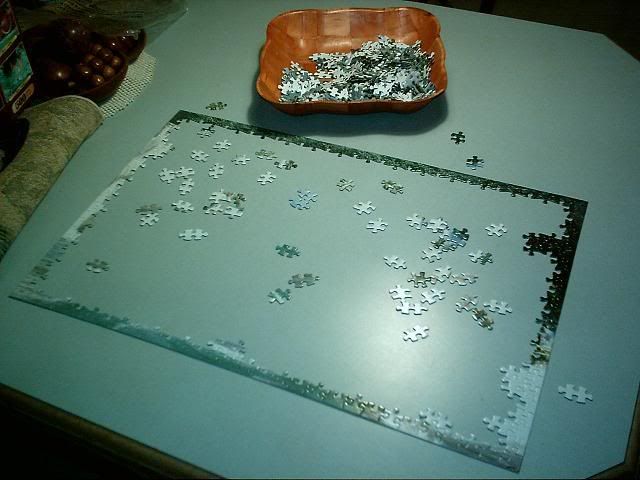 It's a 750 piece puzzle, so I have a loooooong way to go.
I also changed my blog colors, as you probably noticed. I got tired of dark. It's Winter, I wanna see green!