My mother's Women's Group has been working to make lap blankets for three local assisted-living homes. So I took a break from cross stitching and the never-ending scarf to make these: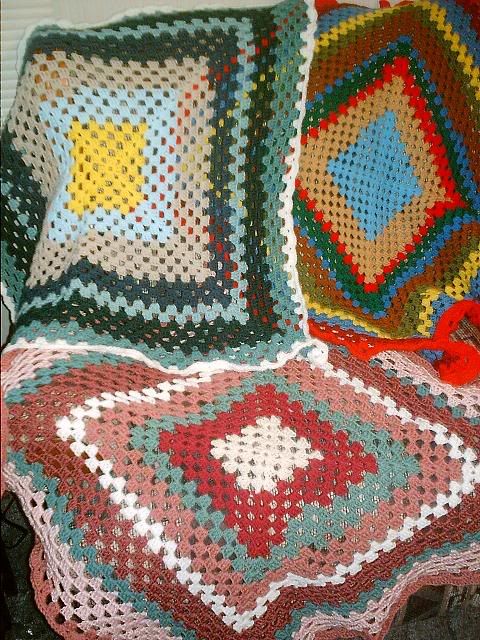 They're all made from scrap yarn left over from other projects. I just worked with the bits, changing colors randomly in the middle of rows as each ball of yarn ended. I think I like the pink one best. The one with the red border will suit a male - I think - and the bluest one could be for a guy or a gal, but the pink came out very feminine. It was fun to go back to crocheting for awhile; it was the first craft I ever learned to do and I haven't done much lately. Especially not granny squares - they are so easy, and I can actually get them
done
while watching TV or listening to music, instead of getting distracted and either missing the show or forgetting to stitch.
They're all about four 1/2 feet square, maybe a little bigger. Just right for a wheelchair-patient. I also made a lap quilt, but I forgot to take a picture and I've already given it to the lady collecting them. I'll ask if she happened to take one, but it was just a simple one, so no big deal.
Now back to work on 'Going to Market' - I want to get at least halfway done with her this month!