First off, I need to apologize, sort of - my computer apparently has something against blogs right now - I can read everyone's updates in Google Reader but if I actually open the blog to comment - crash! goes my internet. Doesn't seem to matter what blog it is; blogger, blogspot, livejournal... occasionally one will stay open, but 95 times out of 100 ... and I have no idea why this is happening :C
Anyway! My January Retro Cat is done! Pardon the attack of the evil crooked-making scanner! I think this is so cute and I definitley want to do the rest of the series, though I plan to change some of the lil' sayings. This little bugger has over 3500 stitches in it, since I did the background, too, but it's only about 3x4.5 inches.

January Retro Cat
started 01/?09
finished 03/31/09
stitched on 18ct
pattern: freebie from cyberstitchers.com


I have also stitched the 'crown' on my Claddaugh:
And started a
fraktur
that I've been wanting to do for years but never got around to!
This is the first one and one/half motifs: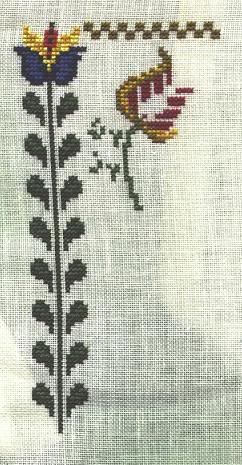 I'm a bit iffy about the fabric I chose - it's linen and very, very thin. I may restart - but I doubt it. I'll probably have it stretched over some sort of backing.
Hope everyone's stitching is going well, and Happy Easter to those who celebrate it!!!