Here's the doily I've been working on - 'Pineapple Centerpiece' from the House of White Birches book 'Pineapple Sensations'. It's only about halfway done, which will make it the biggest doily I've ever made. I'm not quite sure what the finished dimensions will be; I'm making it in size 10 crochet thread instead of the size 30 the pattern called for, because I wanted it to be big.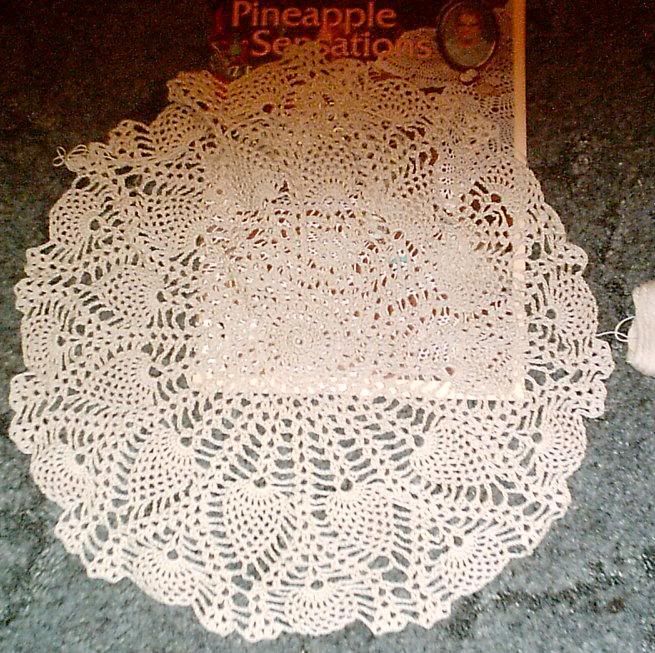 And see what the lovely mailperson brought me! An autographed copy of 'Fantasy Wedding Blessing' by Dragon Dreams!!! It was sent to me for free by the designer, Jennifer Aikman-Smith. And it came without being bent! All the way from Canada to WV! Absolutely amazing... now to get the pretty silk floss I need so I can start it! Sis gets married in August. The photo kind of washed out the pic of the pattern, but trust me, it's a beauty.
I stopped at a yard sale on my way home from the post office, and found these:

An ornament kit, four yards of metallic gold-red-and-green trim, and a cute lil' doll with a basket full of tiny sewing notions. And I got it all for $2!
Here's a slightly better view of the doll... she needs a little TLC, but she's adorable... and if I can't get her looking better, I can always steal her notions for another project... hehehe...
And last, does anybody know the name of this pattern/kit? Or which company it's from? My aunt wants it - she found the picture, but had no information and I don't think I've ever seen it before.