I finished 'Creation' on Monday, I just haven't had time to post about it! I hate it when life gets so busy.
So anywhere, here's my mum's birthday present: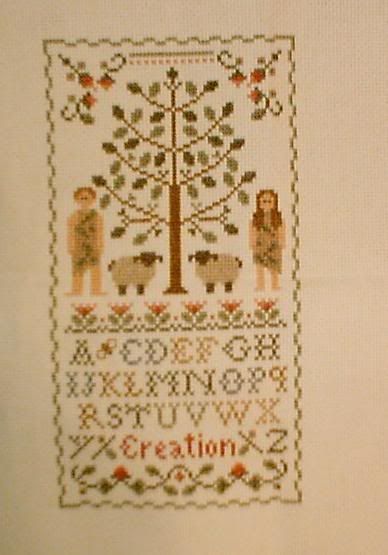 Pattern: 'Creation' from the book 'Beloved Bible Story Samplers' by Praying Hands
Fabric: 14ct ivory
Floss: DMC
Finished Size: 5 1/2x9 inches
Not the best picture in the world - seems like when my camera works, my scanner dies, and when my scanner works, my camera vanishes. Right now, neither is working! agh! and I had to borrow my mum's old one.
And since I never finish anything without starting something else - which is why my WIP list never shrinks! So here's my newest little start, 'Trick or Kitty Treat' from the Halloween issue of Just Cross Stitch. It's done over one on 28ct. Here's about an hour's work:
I didn't bother cutting the fabric down smaller because I'm not sure how I'm going to finish this one yet.
Not enough knitting done to post a new pic, but I'm still working on that scarf!!!