I finished some stuff!
(don't go into shock!)
First, my sister's wedding sampler. It's 'Fantasy Wedding Blessing' from Dragon Dreams, with the changes she wanted. Purple flowers, blue-sky fabric, and little dragons at the bottom.
Finished size: I didn't measure; about 7 x 13, something like that.
Fabric: some aida I dyed myself.
the little dragons at the bottom are the DD freebie 'Christmyth Wyvern', (his head only) with the colors my sister wanted. I'll scan them for a better look when I get my scanner working again.
Also, I've made some aprons for Christmas gifts: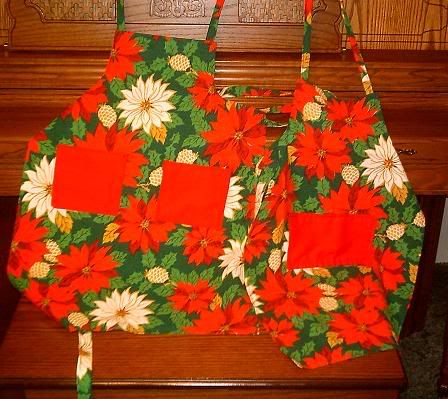 I think the butterfly one is my favorite; it has two tall skinny pockets instead of two square or one rectangle. The aprons look a little odd, I guess, but it's just the way they're laying. None of them are actually deformed (like that top poinsetta apron... >.<)