Well, busy for me, anyway!
My Retro Kat now looks like this: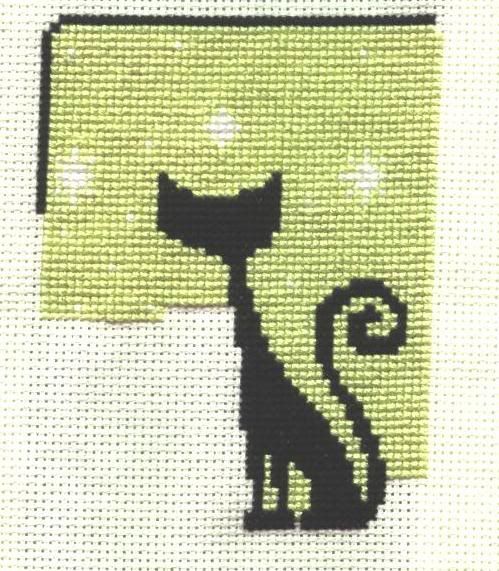 I'm lost in a sea of green background! This would have been such a simple little piece if I hadn't decided to stitch the backgrounds... ah, well. They'll be cute. I have to finish the other side, stitch several rows of snow at the bottom, do the border, backstitching, and give him little bead eyes.
And I've worked on Spike!
Here's how he did look: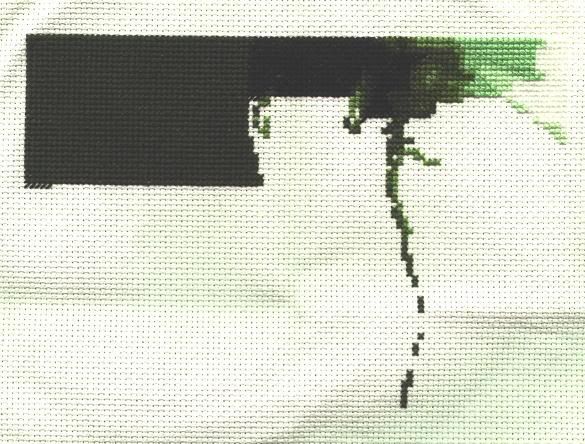 And here's how he looks now. He's looking at
me
, I swear! It's kind of creepy, especially from across the room. You may need to click the picture to see his eye. Blogger trims my pics down for me sometimes.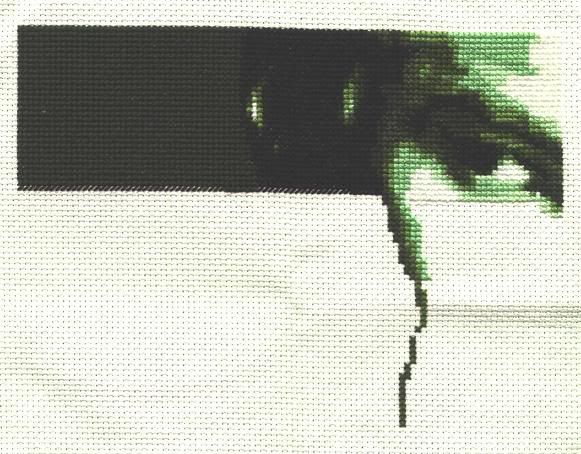 (This is my CG pattern of Spike from Buffy the Vampire Slayer, by the way.) Of 10,000 stitches, he is now officially at 3,195 (I think.)
I've also been knitting! See
Amy
, I told you, you're inspiring me!
This is my Tom-Baker-era
Doctor Who
scarf - the last time I posted a pic, I
think
I was about halfway through the second row of purple. It's only deformed from laying on the well-stuffed back of my couch!
I have made one mistake - you can see the, uh, nubs? of purple through the first block of tan. I counted wrong somewhere. All those nubs should all be on one side. There's no way I'd ever pull this out, though! Not by the time I realized it!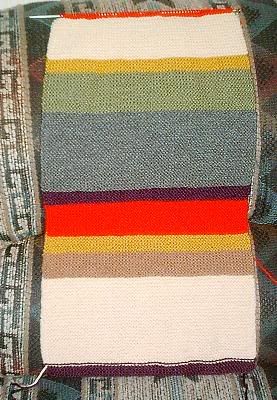 Let's see... (gasp, gasp)
I also worked on my color-wheel ripple afghan. I'm up to the second colorway. I used a different shade of orange and yellow this time. I think they show up better. I don't know how big this one will be; it's only meant to go over the back of a chair, not to actually cuddle up under.
And I made a couple more aprons! Forgive the wrinkles!
The End!
*faints*