Sorry about the title, couldn 't resist the alliteration...
I've been way behind on my
Bride's Tree SAL
- I got stuck on June's 'fruit' theme - I wanted some small cherries, hopefully slightly realistic looking. For some reason, a pattern like that, free or purchased, I just couldn't find.
So I kinda winged it, and here are my Cherries: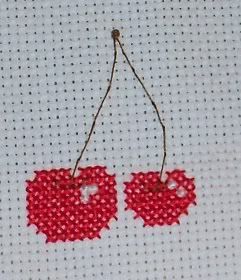 I finished them easily, in a day, because they are tiny, so I decided to move right on to July's 'fish' theme. The Bride's Tree blog had a link to another tiny pattern, so here's my fish: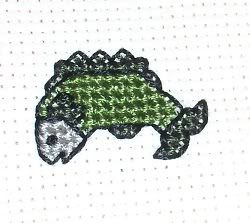 Done in less than an hour! And I adore him! I think he's so cute - I want to make more, lol! I've got special finishing ideas for both of these, so I wanted them to be tiny.
I finished this month's ornament kit a few days ago:
I think this makes seven this year.
And ...finally!
Here he is, in all his completed 10,000 stithes glory...
Spike!
My favorite-est vampire ever!
Patten: PC Stitch, from an online avatar pic
Stitched with DMC on 14ct antique white
About 8x8 inches square. Finished on 8/27/10
Now... what next? I think I'll do a motif on Mary and dig out my Angel of Grace...