I've had some lovely mail lately!
A few days ago I got a package from
Demeter
- I shamelessly begged for the pattern from a kit she had finished, and she sent it to me with the leftover threads, as well! I didn't expect that. The Goth Chick wants this picture stitched up for her new kitchen and I have been unable to find it here except on eBay, from a rather odd seller that I decided not to risk.
And then today when I checked my mail, I had an envelope from
Joysze
. She recently asked for opinions on some patterns she had, and I said someday I wanted to stitch L&L's 'The Quiltmaker' because it reminds me of my Grandmother, who quilts by hand. And she sent it to me for free! O_O I was shocked! and very, very happy! My Mum has immediately claimed that this one is
hers
! lol! Some day in the far distant future when it's stitched!!!
So see - lovely people! Thank you guys so very,
very
much!!!
And I cannot remember who posted the link on their blog to crazyanniesstitching on bonanza.com but THANK YOU! Lookie what I got!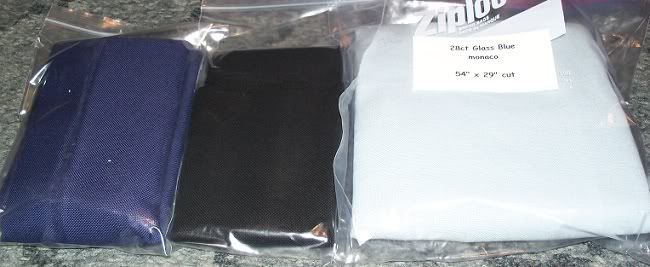 That is, from left to right, a fat half of 28ct navy Jobelan, a fat quarter of 28ct black Lugana, and a 29x54 piece of 28ct ice blue Monaco. For very, very,
very
little. The Monaco was $10.50!!!
The title of my blog is very appropriate at the moment - I'm definitely feeling dazed!
In stitching progress, here's Fred!
I finished up his bottom shelf (!) and the first two red books are done. And I never once was tempted to toss him
out a window
back into WIP storage! That's kinda amazing, since that's what happened the last time I really worked on that bottom shelf - XD
Also I have some progress on the Eagle kit - two Sundays, and two more colors done.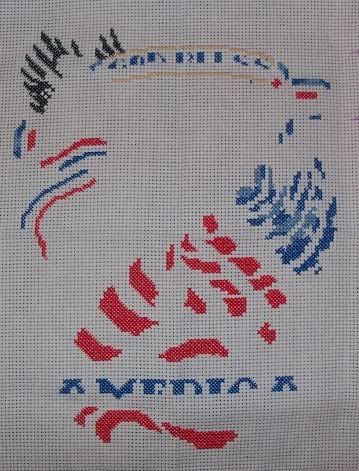 Moving right along!