My Claddagh project is done: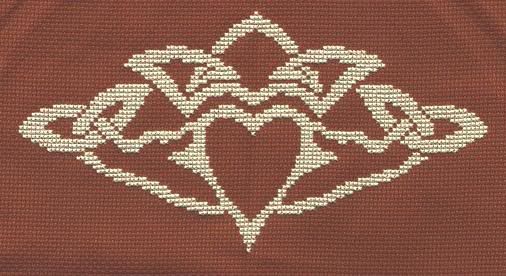 Pattern: Web freebie from Anime-Manga stitchs (link to the right)
Size: About 3x6
Fabric: 20ct rust hardanger
Floss: Ecru DMC
This is for my sister's wedding anniversary (one whole year!) in August. I think I'll make it into a pillow, possible with something Gaelic written beneath it. Her wedding ring is a Claddagh, and her whole wedding was Scottish/Irish-based (thistle, handfasting, silver coin in her shoe, all that) We kind of mixed up Scottish and Irish things, since we have both in our ancestory. It was very pretty. Her husband even wore a kilt! Around here, that was amazing. Everyone has traditional American weddings here. Boring! Even the fact that her wedding was outside amazed some people. So very traditional in this area... sigh.