Here is the Booger (aka Mother's Tree - well, it's, um, green and oddly shaped? and mildly annoying; that's a
lot
of green!) So ever since my last post, I've been calling it the Booger. I'm such a twit :D

Here it is at 21 or 22 hours - I can't remember.
Only 8 hours to go to reach my October goal! Yay!
.
'Though Far Apart' is almost done, so I'm waiting for the finish to scan or photograph it. Hopefully soon!
.
I decided I'd lay out my HAED patterns to get an idea of how I'd stitch them - I may have bitten off more than I can chew: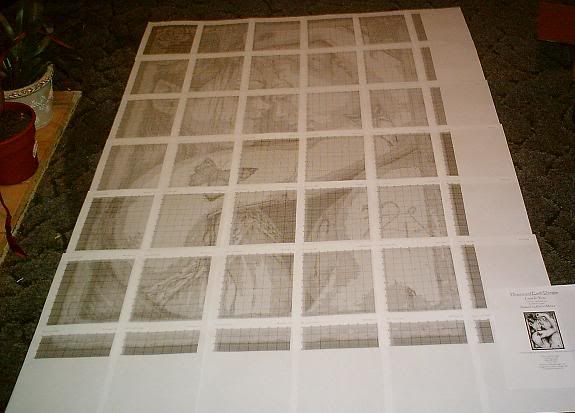 .
I find this mildly intimidating 8I
.
'Poet' is not quite as scary, until I thought about all the color changes:
.
Since I won't be starting them until December or January, I refuse to worry about it!
.
On the crochet side of my life, I have to make four big shawls for Christmas - the pattern was a super easy one in the last issue of 'Crochet World'. My sis bought it for me; if I had been at the store, I could have just looked at the pic - that's how easy they are. Just a bit boring, since they are half a granny square. This is the first one, about halfway done:
.
It does get pretty cold here (it's 43 degrees tonight, and feels colder) so the fact that these shawls are nearly ankle-length is going to be quite popular! One of them will be for my sister-in-law in Georgia; her's will only be a little past waist length.
.
Happy stitching!