I have finished my August Bride's Tree ornament - the August them is beauty & affection, symbolized by a rose: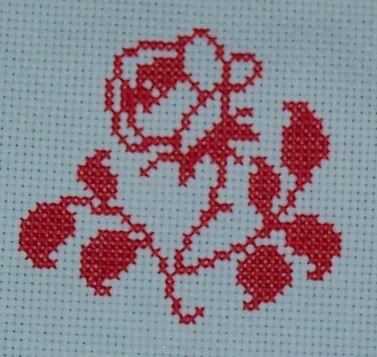 And I did September, too - theme is hospitality, with a teapot or coffepot. I couldn't find another little coffeepot besides the one I stitched last year in a little sampler, so I went with the only teapot pattern I even vaguely liked: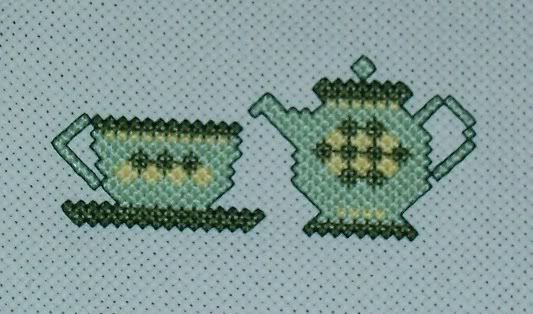 This pattern is stitched diagonally - first time I've tried that. My brain kept wanting to short out until I made myself focus on the squares and not the pattern as a whole. Then it went pretty fast.
This brings me even with the
Bride's Tree SAL
- now I have to find a pinecone for October. Both these patterns were freebies that I found links to on the Bride's Tree blog. All these will be an anniversary present for either my mother or my sister-in-law.
When I got the stash shown in the previous post, I also picked up the latest issue of the Cross Stitcher - I hadn't had a chance to look at it then but I have now, and this little pretty is going straight on my to-do-list in October:
We had a sweet doggie that died a few years ago - my little sister's first dog that she can remember. She looked a lot like this and all I'll have to do is tweak the browns to a little darker. Then I may put her name and maybe dates at the bottom; my sister will want one, my brother, my mother... um... maybe I shouldn't stitch this yet! lol!
She was our best-loved dog ever and we all miss her.
I also joined (and promptly forgot about) the Bernat blog's Mystery Afghan Crochet-Along. I didn't remember it until I saw someone else posting about their first squares. So I hurried to the blog and read the instructions and it was super easy. I stitched the first right away, Tuesday evening.
The next morning I took the yarn with me to stitch the next one while I was waiting for my mum at the chiropracter (I have to drive her there). I made the nexxt one just as easy. Took no time.
Then I got home and laid them beside each other, and the first one was at least an inch bigger.
Huh. Odd, because I've been crocheting for eons - honestly, I don't even remember being taught, in our family our grandmother and aunts and mothers all crochet and I think the girls all learned by osmosis or something. Everyone can do it and only a couple of us actually remember lessons - anyway, I've never had that happen before with crocheting - same yarn, same hook, I should have gotten the same gauge. Knitting, yeah, I wouldn't be surprised, but
crochet
? Good old reliable crochet?!
So I tried again, doing just the first few rows, and measured carefully, and the square was still going to be smaller. Now, I'm using a K hook already to get gauge and I didn't want to use a bigger hook, so I started another, crocheting loosely.
Still too small.
I started a block four times before it occurred to me to try & measure the new squares I was making with the second, smaller square I had made that morning.
They matched perfectly.
ARrrGGhh.
So I made them that way - they are smaller than the 8 inches they are supposed to be, but I'm making my afghan to use up stash, and my yarn is worsted weight instead of chunky. So they will be smaller, anyway. I know how to make patterns compensate for that, it was just the gauge that was killing me!
Apparently, I was drunk when I made that first square.
REally odd, since I don't drink...
Here are my squares: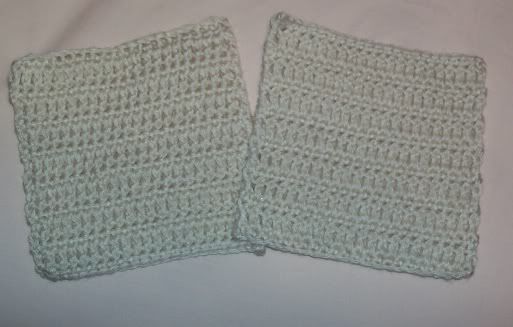 The edges look a wee bit odd to me since I'm trying that new technique where you don't have to chain 3 - it is neater, but it'll take time before I get them looking the way I want them.
Since yesterday was Wednesday, and that's when the new 'clues' come out, I went back to the blog to see what torment I had gotten myself in for.
Clue 2 was Granny squares. Thank God! I can do those in my sleep: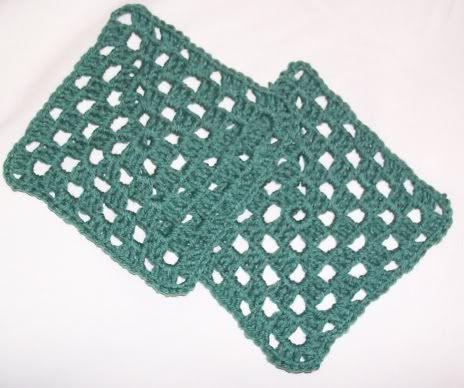 Now I'm going to be all antsy until I use the first yarn again. I wish my brain didn't work the way it does...