Here's my Mermaid of the Deep after last month and this month's combined 10 hours - I think about 4 last month and 6 this month:

I have completely finished the first page (finally!) and isolated most of the confetti stitches on the second page. I'm hoping to finish her up next month. For now I'm going to stitch Mary Wigham's motif and work on my Angel.
I also did Clue #3 of the Myster Afghan at the Bernat blog - it was a V-stitch square, of which there was supposed to be 8 in color E. Since I'm trying to use up leftover yarn, I had to use two different colors. I don't have 20oz. of one leftover green. The dark ones are Light Sage and the light ones are Frosty Green.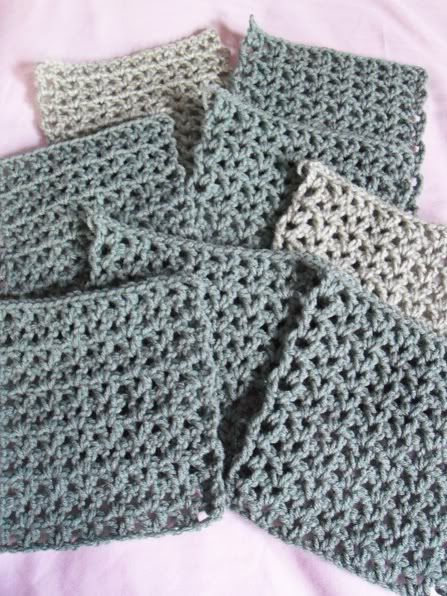 Pardon, please, the fact that I have yet to weave in my ends :D Next clue comes out on Wednesday - I'm looking forward to seeing what it is!
I also decided to try and improve my very, very basic and shaky knitting skills by going back and doing the Mystery Knit-Along Afghan. I'm still on the very first square, though. This could take me awhile :D