I had a really busy weekend, since I always work on Saturday & Sunday.
I didn't get much done, but for some reason I feel like I did. Go figure.
Here's Ice Wind's progress; the orange highlighted bits are what I did for IHSW.
I finished all the blue except for some confetti around the edges. All the blue on page one, that is. I did get a few stitches down onto page two. I also finished up the white in her hair and moved on to... pink. I love HAEDs. The colors are so weird, yet they look so good.
I tried out a stocking on red. It looks pretty good in real life. The white and green stand out very brightly, but the burgundy backstitch at the top looks brown.
I can live with that.
Remember a few posts back I said I thought I remembered an old kit with a carousel horse? Well, I did remember one. Found it, too!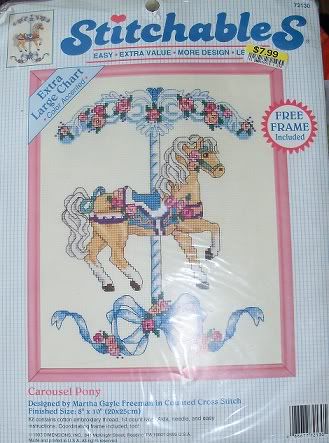 And the sad wee bit I had done.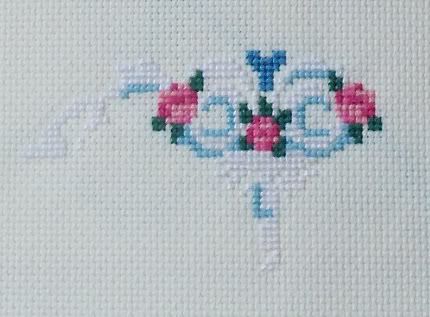 This is now my oldest WIP/UFO since I finished up the Daily Bread one.
Oh, I almost forgot! Here's what I bought at the HAED sale :D
Cardinal Song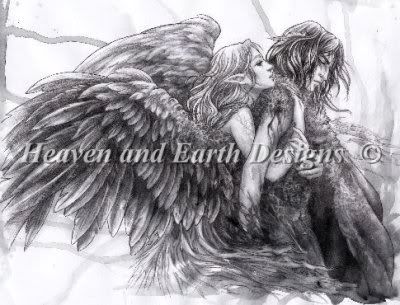 Divide the Sky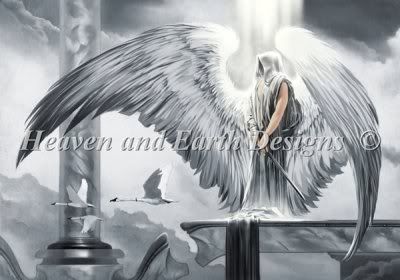 Guardian Angel
I spent all the money I had saved for bidding on another Hawk Run Hollow pattern, but I don't mind. I've actually started some HAEDs; Hawk Run, not so much. Ah well, someday!
...y'know, I just realized all of these are guys with wings (and one girl... I don't think she has wings, though.)
Hope you all had a great weekend; I'm off to check out blogs!