I'm back from my little trip, so here's my little progress!
I did all the light red on the eagle - two shades of red left to go. I did all this on 9-11, which made me happy.
Last year, I stitched a bunch of wee one-dollar Christmas ornament kits. While going through my stash to sort out things for
WIPocalypse
(which if you haven't joined, you should, 'cause it sounds like major fun) I found two little kits flat against the back of a drawer. So I took both of them with me and finished one: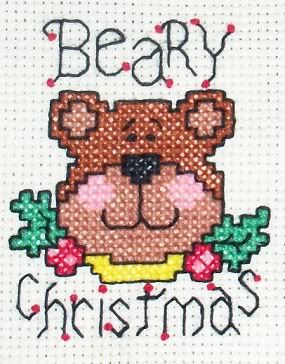 The other one I almost finished but I ran out of a color, which surprised me because despite the cheapness of these kits, that had never happened before. Then, this morning as we left, I found the extra strand of that color under the coffee table. I only had about ten-fifteen stitches of that color left to do, so I'll finish it up before I start my
IHSW
stitching (also something you should join if you haven't. Lots of fun!)
Speaking of IHSW, I will probably work on my boat, which I took with me but didn't stitch on. XD I worked on something else which I don't have a pic of yet, because it's still packed in my luggage.
More pics later!