I finally got back to some stitching!
I stitched up
Meryl
and
Milly
from Trigun, to go with
Vash and Wolfwood
. The patterns are from the
DorkStitch
blog.
Meryl Stryfe: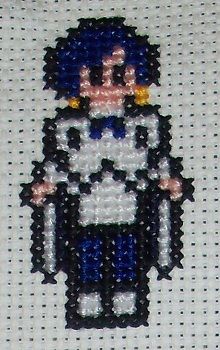 Milly Thompson:
I also worked on Fred - his shelves are now complete! Only books, backstitching and some shiny stuff to go.
Whilst browsing blogs, I found
Measi's doing an Olympics SAL
... I wanna join! I just don't know if I'll try for the Sprint or the Rotation Relay. I lean towards the Sprint.