Here is my first scan of stitching names & dates - I split the area into thirds so it would fit my largest Q-snaps... I really need to get some expander bars someday when I remember, lol!
I am already halfway done with the second 'third'. I just need to come back and put quotation marks around 'Polly' on this, since it was a nickname and not her actual middle name.
I think it's pretty neat that Mary had Rhoda when she was in her 40's - that was rare for back then. Mary was also a full Cherokee; she had a Native American name but it's lost to history :C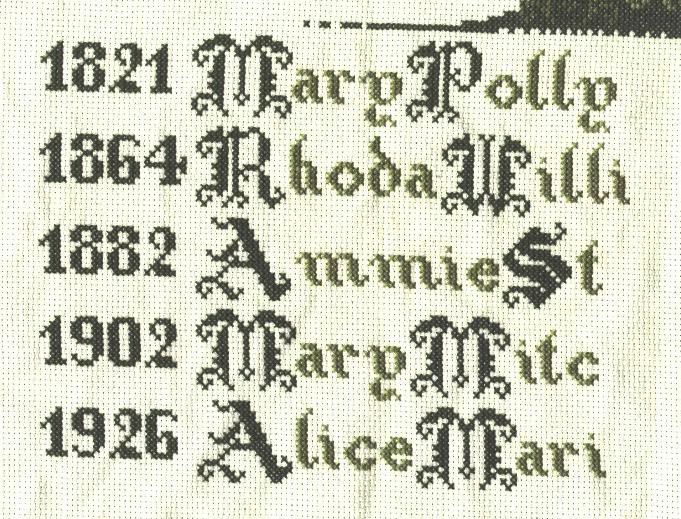 This 'Mother's Tree' is for my father's mother. I'd like to do one for my own mother, but her 'mother' tree currently ends abruptly at my great-grandmother, also a full Cherokee, whose parentage is not recorded in any place we've found yet. We still have a few more places to look, though.
I'm a bit enamoured of 'Ammie', as well - a lot of places have her listed as 'Annie', but my grandmother has always said that her name was
not
Annie - even though some geneologists (sp?) have tried to convince us that 'Ammie' is a mistake. But my grandmother lived with her for most of her childhood, and she
knows
her name was 'Ammie', pronounced 'Amy'. I think it's neat to find a quirky spelling in the 1800's!
I also finished the afghan for my nephew :D
Spiderman!