Chibi-Sev is finished!
I think. I may go back and make the grey pupil on his left eye one stitch longer. It looks sort of odd to me... I can't make up my mind.
The potion is a lot darker than it was originally charted; I could only find three shades of green in that satin-floss. It was not fun to work with, but the result is very shiny IRL and that's what I wanted. So yay!
I forgot to measure him, but he's about seven inches tall, stitched with two strands of DMC on 18ct ivory fabric. He makes number 4 out of 30 done for my stiching challenges!
After Sev was done, I decided to work on a small project before leaping into Frederick - I tried my Prairie Schooler Santa (1984) and got this far: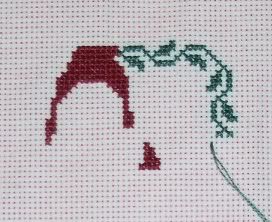 Before I said 'forget it'. I'm just not in a Christmas-stichy mood. I'll see what else strikes my fancy tonight :D I may just go on to Frederick and forget the small project for now.