I had a very busy weekend - I had to work every day, except Sunday which I spent with my Dad. We had a family-only pool party. Which meant five people, since my brother couldn't come up from Georgia for just one day. He's planning a longer trip later this summer.
Anyway, I didn't have time to really search for my UFO - I didn't find it until late last night, so this is all I have done:
However, I did want to do something for IHSW, so I stitched some Sprites:
Cloud in a different outfit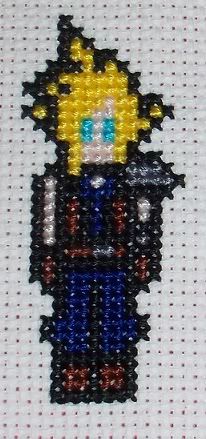 and Zach, both from Final Fantasy VII
Both patterns are by
Missy
While searching for my old UFO, I found this:
I have no idea what this is. After wracking my poor lil' brain for several hours, I vaguely remembered another kit bought at the same time I bought the Daily Bread kit. I don't ever remember starting it though, but this one is exactly the same size with the same type of fabric. So I'm guessing it's that one. Problem is, I couldn't find the floss or the pattern. I'm going to keep searching, but if it doesn't turn up within a week, I'm going to try and match the border color, finish it, and find some quote about either memory or mysteries, and stitch that in the middle.
During the above-mentioned brain wracking, I
also
remembered a carousel horse kit that I bought around that time (this is early 90's, I think) and I'm pretty sure I started it. So that's also on my to-find list. I hope this doesn't continue - I have
enough
UFO's!!!
In the past week, there's been a very pretty, very skinny kitty hanging about my house. The neighbors say (s)he is not theirs, so I'm trying to get her calm enough to catch. She'll come up to the porch, but no further until I go inside. I'm pretty sure she's a girl, because Audio is fairly calm about her, but Grizabella hates her. So I started calling her Lorelei, but my sister insists she looks more like an Iris. If I can catch her, it's off to the vet for a checkup and if she's healthy, to be spayed and I'm keeping her. I like her.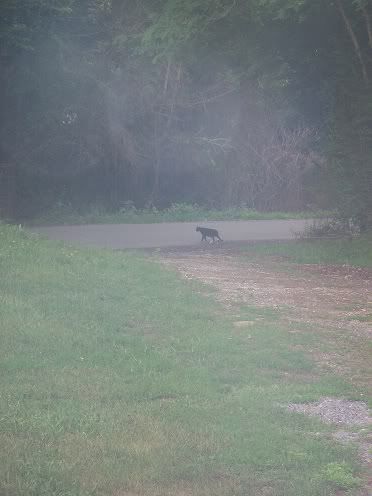 This is the best pic I could get - sorry, it was foggy. She's at the far end of my driveway. If she does turn out to be a boy... I don't think I can resist calling him
Quaxo
. (S)he has a white tuxedo down the front.
Last, but certainly not least, a lady in our choir (I run the sound system, I
DO NOT
sing and everyone should be grateful!) saw me stitching and said she'd give me some old floss she had. This isn't the first time someone's offered me old floss, but it's usually some generic brand and/or a tangled mess. So I said thank you, but I really didn't expect much. This evening she gave me this:
It's almost full. I am a happy stitcher tonight!
.