I should steal this off of my parents' porch and put it in my stitching room.
I was working on Nautical, but something just didn't look right. I don't know if you can see it or not - I didn't save the 'big' picture I took, just the trimmed down version, but it turned out that when I bought floss to replace the long-lost floss for this project, the blues didn't quite match up.
See it in those two half-finished flags on the right? The top two-thirds of the plus-sign one is darker. It looked almost the same in real life. I couldn't figure it out. It was the right color number. I thought maybe it had faded, or that DMC had changed their dyeing process, or that it was just regular dye-lot variance. But no, because I went and pulled every single skein of that color I own (which was oddly a lot) and they were all the same.
So I went and got my handy-dandy DMC floss color fold-out thingie (I'm pretty sure that's its official name) and checked. Yup, it matched - and I got the one with real floss samples, not the printed pictures. So I took the project off the q-snaps, held it up to the colors, and it turned out that ages ago, when I bought the floss, they must have been out of the color I needed so I bought one number off. 796 instead of 797. Luckily I had one skein of the first color, so I've been restitching. Looks much better.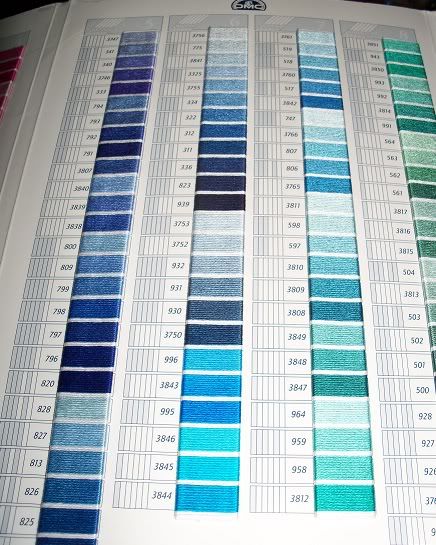 This is my favorite page of my Floss Card Thingie. I love all the blues. The pink/red page is pretty, too, but I like this one best. I lucked out finding the Thingie on eBay - I don't think you can buy the real-floss cards anymore, and the ones I used to see were with little loose ends of floss, not smooth floss like this. I use it a lot.
So anyway, I frogged what turned out to be quite a bit more than just those two flags, restitched and it looks much better, yes? Though I'm not quite done.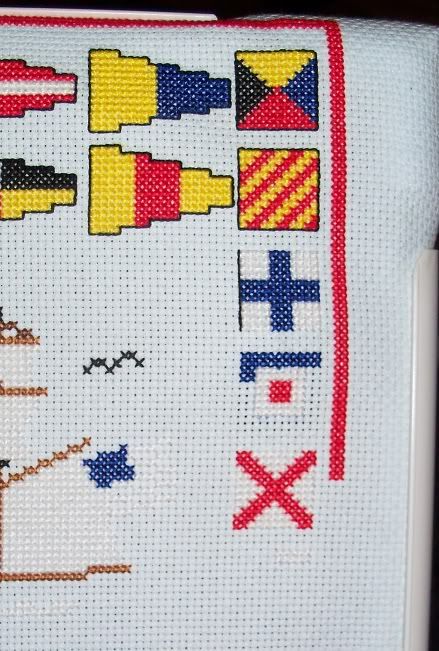 My goal for this in October is to finish the boat and all the backstitching to this point, then possibly stitch the knots and little sailors that go below the boat.