Amazing... I'm done with my Christmas gift cross-stitching, and almost done with my crochet gift stitching! So last night I took a little break and worked on my Mermaid of the Deep. I want to get her done by Dec 31st.
.

.
I think it may be possible - I still don't stitch any faster, but those three dark blue stitches in the bottom left hand corner are that actual bottom of the pattern. She has a very tiny bit of confetti left around her waist and the rest is fairly solid blocks, about six shades of blue. I still find it hard to believe there are 88 colors in there, even though I've used them all... I love HAED patterns.
.
I also stitched a little sprite last night - this is Jill from the game
Cake Mania!
.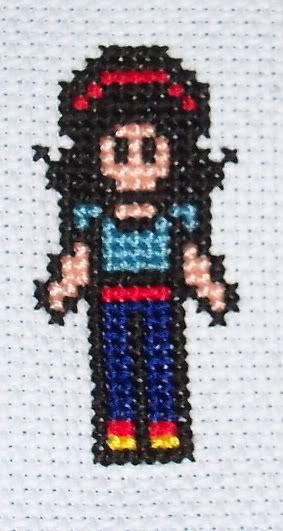 .
That's one of the first time-management games I ever played, so I wanted to stitch her! The pattern is from
Dork Stitch
- which is an absolutely awesome blog! :D I want to stitch
mooooore!
But for now - it's back to Christmas Hats for Family Members. I have one left to go, and two shawls to get finished. And one shawl that needs fringe... then I'm done with Christmas gifts! Yay!
.
Hope everyone is warm and safe - it's cold and icy here.