Hope everyone had a very Merry Christmas! Ours was pretty fun!
I finished up three little stitch-y things after the presents opening and dinner and all were over - everyone was watching Dad's new wrestling DVD so I decided to stitch! Gotta grab the time when you can!
Here's Vincent Valentine from Final Fantasy, and Scarlet from Farm Frenzy, by the talented
DorkStitch!
And here's a wee Christmas Mousie.
He was orignally holding a peppermint cane but his arm (front leg?) was freakishly long so I redid it to look like he's leaning on his hands, maybe? He makes #24 for my ornament count this year (I think).
And since Christmas prezzies are all given, here are three of the things I made (I won't post everything I made in one post - tooooo many pictures!)
This is my SIL's shawl - my Mum is posing it for me - I called it 'Denim Days'. It's the one with the beaded fringe.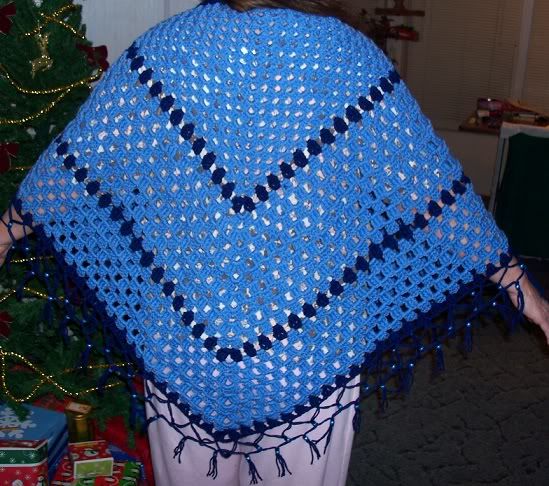 And this is my GrandMum's shawl. I called it 'Lady in Red'. I have a serious weakness for naming things!
And here is my nephew's Ninja Hat - shockingly unnamed! lol! I made him a whole Ninja costume, but mostly it was just buying the black sweatsuit, gloves, & socks.
I'm off to give my Mermaid a little attention and maybe stitch another Sprite this evening! Bye for now!