I decided to keep working on Fred for the weekend - I still have hopes of finishing him off this year.
*crosses fingers*
Anyway - Fred now has a complete bum!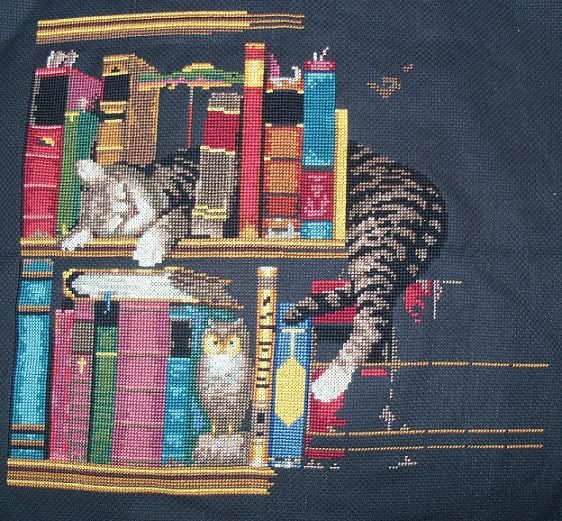 And I've started the work on those six red books in the bottom corner. I'll be going back and forth between them and the dreaded shelves for a while, possibly with a bit of the bird thrown in to keep my interest. We'll see how it goes!
I also finished two crocheted hats. These are for my dad for Christmas. He's bald, and on blood thinners, so his poor head gets very cold. I usually make him one of these, at least, every year, and by the next Christmas he's needing a new one. Last year, however, I made him a balaclava, so now he
really
needs a new hat! His old one has shrunk so much from being washed that it's halfway up his forehead, lol!
Here's the first - a slightly loose stitch with a nice ridge pattern to make it fit snugly. This is for when the weather is a little warmer or he wants to wear it during the day. I put a crab-stitch edging on it which looks like picots in the pic, but won't when he's wearing it. The finished hat was a little loose at the edge, so I added the crab-stitch to make sure it would stay on snugly.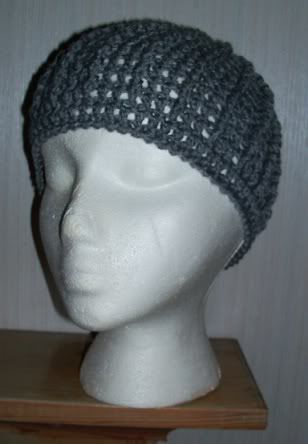 The second one is a much thicker, plain double-crochet stitch. It's for cold days or to sleep in at night - yes, he sleeps in them at night. He used to have a quilted one that originally went under a helmet or was for hunting - I don't know - but it wouldn't stay on his head at night and he'd wake up with a head cold. So these are much better!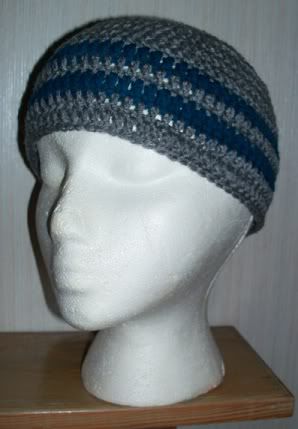 And that's two more prezzies off the list, which is lovely! On to my nephew's much more complicated hat!