I didn't get to start the little PM boy until today - here's his small beginning!
I'm going to work on him more today, I just thought I'd post the pic because I could think of a cute blog title. I'm shallow that way XD
I had a moment's confusion when finding the pattern in the book - stuck in the page with the girl's pattern was a 3-strand ort. I was sure I had stitched the girl with two strands, so off I went to dig her out.
I was right about the two strands, so that ort was random - but I also discovered something forgotten! I had stitched the girl on a piece big enough to add the boy, as well.
That was a bonus, as I wasn't sure I remembered if she was on antique white or natural aida. No worries now!
In other stitching, I finished off the chair and backstitched the rug beneath it. I like that it looks like one of those old oval braided rugs my grandmother used to have.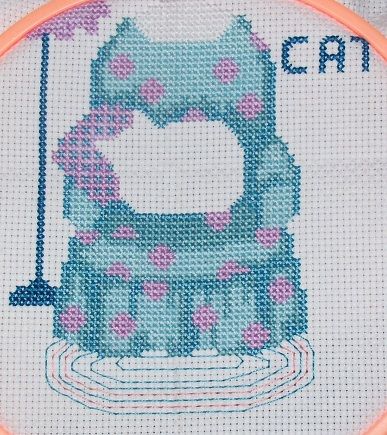 On to the kitty!