Hello again!
Normally, in September, I would be putting away any projects except the HAED SAL, and starting gifts.
I'm not gonna do that this year. Mainly because I had already planned on some of these being gifts :D
So here's how my rotation is now.
1. Fred! He's not a gift, he's
mine!!!
But he's too close to being done to put away. I finished off the green book, about half the blue, and started the last rust-colored one. I have some black shadow to finish, too. Then there's only the gold metallic and the backstitching to go!
2. God Bless America. This is for my Dad, for Christmas. Here's how it did look - I haven't worked on it in a while. I'm stitching the next darkest shade of brown on the Eagle and I have a good bit done, but I didn't dig it out for another pic yet.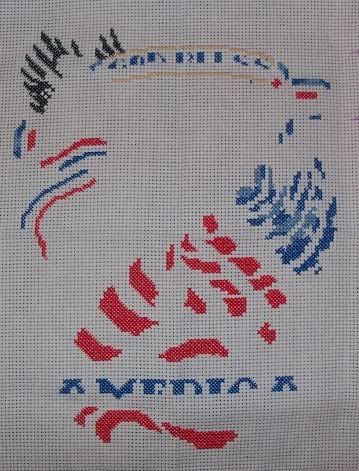 3. A new start - but only sort of! I was planning on stitching Psalm 23 for my parents' 40th anniversary - then Mum just mentioned, out of nowhere, that she'd rather have that Precious Moments set that I started a loooooooooooooong time ago. I was like, 'what Precious Moments set?' It took awhile, but I scraped up a pic of the finished girl (she just needs my Mum's name under or over her; I'm not using the original words that go with the patterns) I haven't actually
found
her yet, but I know she's in the box of finished but framed projects :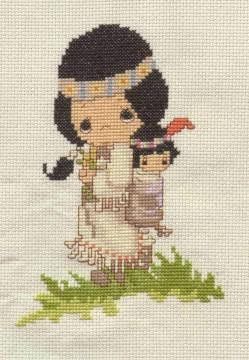 There will be a boy to go with her; he's my new start - planned for tomorrow: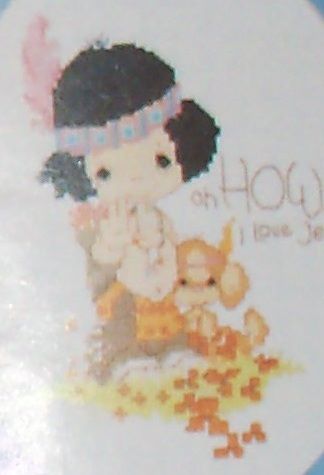 Sorry for the crappy pic. The flash is bright and the book is old.
And this will be the last part. The part of the verse I'll be using says 'Many moons in the same canoe'. I'll be leaving off the 'Bless-Um You' as I always thought it was dumb (sorry) And instead of 'Happy Anniversary', just their wedding date. My framer says she can put them all in one frame with three openings, four if I do the verse on a separate piece like it is in the pic. I'm thinking of just doing it over the canoe, with the date under.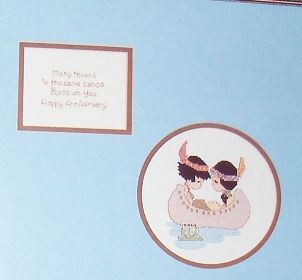 So I'll be starting the boy tomorrow - hopefully finishing him, this month! My Mum is Native American and my Dad is about 1/4, although you can't see it in him at all. He looks all Scottish :D This will still be something she'll love and he'll like because she likes it. They're still silly in love after 40 years!
4. An ornament. I finished another stocking! I really like this one, too - I think it looks very Victorian! The camera flash burnt the fabric color out a bit; I did it on a darker-than-usual piece of antique white.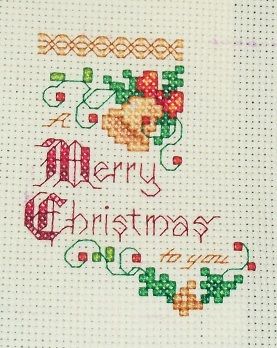 And so I'm picking up Christmas Bells that I started in August but only got this far:
It will be a quick finish. Once it's done, it's back to another stocking, then the last four Avengers if it's still September. They have their black outlines done, but I can't find the bag I put them in when I switched purses. They'll turn up.
5. A 5x7 kit - this one is Home is Where the Cat Is after its teeeeeny-tiny bit of progress in August. It was like - maybe 20 whole stitches! This is a prezzie!
6. A crochet or knit project. Spiral Afghan grows larger daily! I have to get up to forty stitches between increases and right now I'm at twenty. The rows stop curling when the next one is done, and the edging is crab stitch which will eliminate the curl in the last row, which is a bonus! I also plan to go back and pull the hole in the center together - the next time I stitch this pattern, I'll know to start with a smaller loop than what the pattern actually says.
The owls are working perfectly. Tazzy - they are made with snap-back earring posts, but they weren't made to be earrings. They have to be able to open for crochet, so I think the earring backs are a great idea! Linda - working with two colors is easy for this one - just drop one and move down to the other. Thankfully, crochet doesn't unravel easily and the owls stop any chance all together.
7. The HAED Freebie SAL project, QS Lovers, during IHSW.
And just in case you guys feel that you haven't seen enough pictures Oo here's some drool-worthy stash!
I got one more
HAED
before the sale was over - Sessler's Ranoel: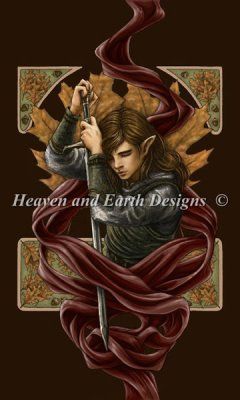 Question - does he look like his background is dark brown to anyone else or is it just my monitor? The pattern calls for black, but I always thought it was brown and like it that way, so I plan to switch to brown. Actually - I plan to totally cheat by buying or dyeing a piece of dark brown fabric and not stitching the background!
And I got another from
WS&B
- I'm gonna have to start a page for these because I went surfing on the site and found a
lot
more that I like when I thought there weren't any! So I figure one a payday - they cost $2.50 US. This one is the Tapestry version of Angel of Death.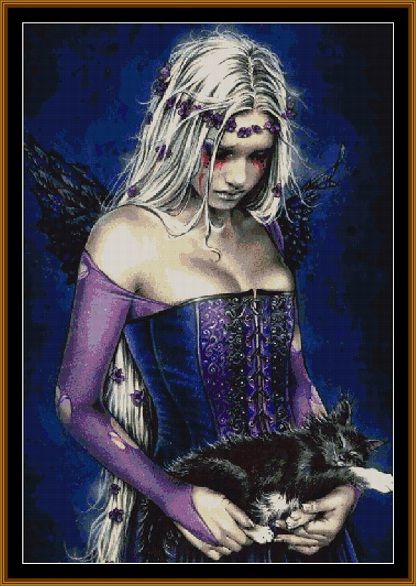 I chose the Tapestry version because I have a really good conversion chart, the purples were much brighter in it, the wings and flowers show up better, and the cross stitch version doesn't have the red tears. The Goth Chick actually chose this pattern. It'll be for her - y'know, someday XD
And now I will torture you with pics no longer! Have a great evening!