I had to work at a new site on my job yesterday - and there was no one else there and I had not a single customer - weird!
But it got these little monsters finished - yay!
There are 8 different shades of brown/gold/yellow in those bells, and you really can't tell at all XD
When I got home I finished this: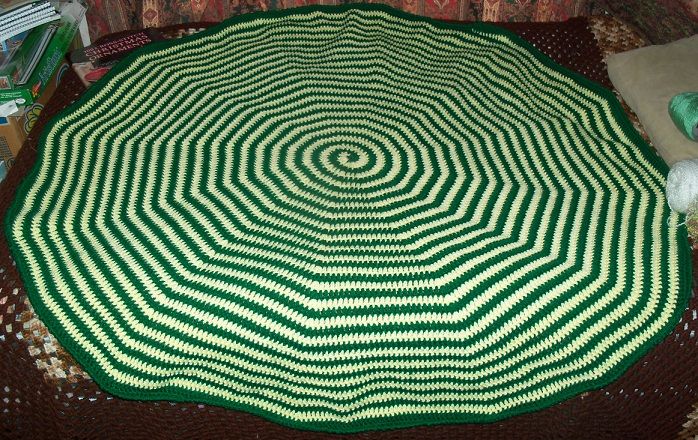 I had all but half the edging done, when I ran out of yarn and had to get some more. Either I counted my gauge wrong, or the pattern tester was smoking crack, because I had already used about 4oz more of each color. :P
So that's one present down, and now I'll be starting on the next! My mum
loves
the color purple, so when I saw this afghan I was sure she would want it. (This is from the book 'Top Technique & Special Stitches Afghans', which also has the spiral pattern)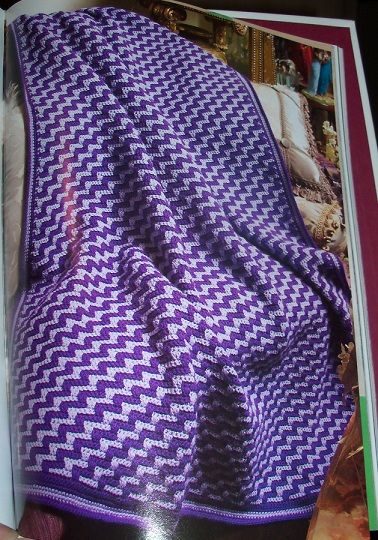 It's called 'Mosaic Stair-Step' and it's a little complicated, but not as much as it looks. Anyway, I showed it to her to be sure, and she did love it - then stunned me by asking can I change the colors! She wants it to match their bedroom so it can go on the bed, which means dark green and probably a light brown or tan. Oh, well. What Mama wants, Mama shall get!
Here's my to-be-made presents list:
Spiral Afghan for BIL - done
Mosaic Afghan for Mum - started
God Bless America for Dad - 1/4-1/3 done, has to be done by Nov to be framed
Amigurumi Ninja
for the Goth Chick
Ruffled Knit Scarf for the Goth Chick - started
Yellow & White Ripple Baby Afghan for my SIL (she's pregnant! yay!)
Amigurumi Angry Birds set for my Nephew
Something for my brother - IDK what
Anniversary PM Project - 1/3 done, has to be done by Nov to be framed