It's a conspiracy! I didn't work on Lovers on Thursday; I worked more on the little Brave, because Monday was free and clear for a long, lovely stitch-fest.
Then I got called in to work. So instead of Friday, Saturday, Sunday and then freedom! an extra day got eaten up.
*insert wail here*
At least my paycheck will be nicer XD
Here's how Lovers did look:
And how they look now: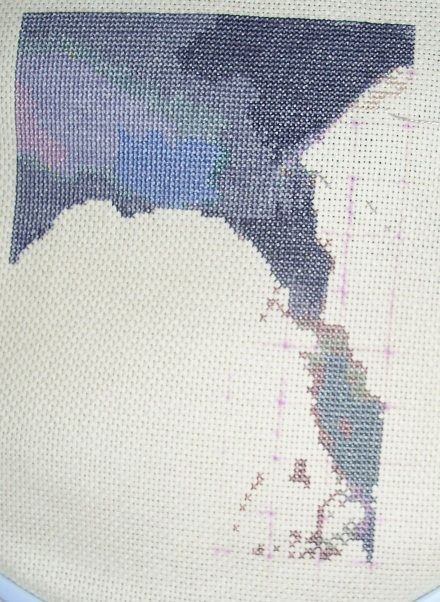 I
think
I finished up most of the background. His profile stands out clearly, of course, but right now he looks ready to kiss the Wicked Witch of the West! There are a few stitches that are prolly background, and a big chunk under her chin that confused me until I remembered his hand was there. But I did finally start a few stitches of his hair - so I feel all accomplished, lol! Even though I didn't get nearly as much done as I wanted.
Today at work, I took the Ghost Cat in the Chair (I thought ghost!cat, too, rosey! even thought about doing a pale grey outline, but I didn't feel like doing the half cross of the chair and cushion he would have needed behind him to look all invisible!) and finished up all the crosses. I started the backstitch - beyond the rug, of course - but not until after I took the picture. The next time I post about this, it will be with a finish!
I took Christmas Bells along, too, but lately they have just gotten no love at all. They're so
little,
and yet I have done only a few stitches when they could be another wee finish. Oh, well. Soon.