I used to carry one of the Sprites from the
DorkStitch
blog in my purse or bag all the time - they're very quick to finish but I seem to have a mental block about working on them at home. If I have time to sit and stitch for a while, I think I feel vaguely guilty if I don't work on a large project. Weird.
Anyway, I started carrying little projects with me again and the first day I put the little baggy with my Sprite stuff in my purse, I finished a Sprite!
This one is Zell from Final Fantasy VIII - he looks like this (and like most FF characters, wears a really odd outfit):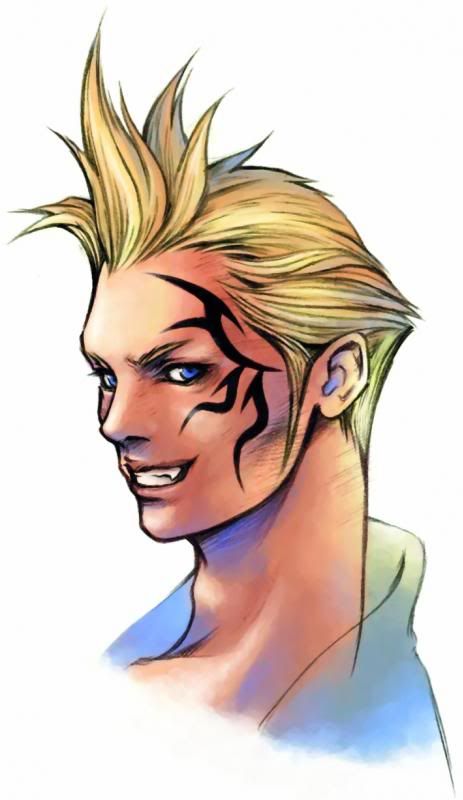 And here is his Sprite:
I also put two more black outlines on my Sprite fabric; the Joker (Batman) and Keiko from Yu Yu Hakusho. She's the one in the corner who currently has no eyes :D That fills up this bit of material, so I'll be filling in the outlines now until they're all done. They are not a set - they'll eventually be cut apart.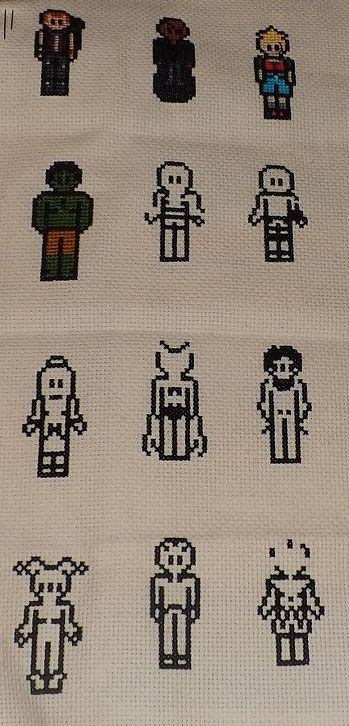 So carrying the little projects in my bag continues to work and I don't know why I stopped for a while. I have a Stocking ornament almost done, too!
IHSW is this weekend, and I had part of today off, so Nostlagy is well-underway for her first turn in a loooong time!
Here's another HAED from my most recently paid-off layaway: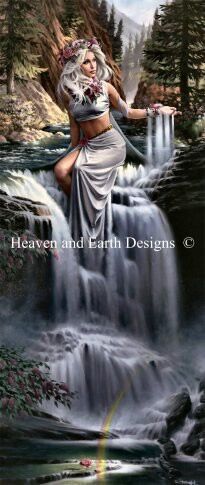 Cascade by Johnathon Earl Bowser - she used to be a retired pattern; when I saw her for sale again I grabbed her! I've seen her stitched up and she's gorgeous! Luckily there was a 45% off sale at the time and I was planning a layaway, sooo..... And there is, by the way, a 50% off sale right now! Just in case anyone feels the need to bulk up their stash :D