My 'day or two' is really long, isn't it? Lol!
I scraped and scrapped and arranged and rearranged my rotation - I still had to give up a few projects (temporarily!) that I would have rather kept, but this is the main one for now:
1. Frederick the Literate - so close to a finish!
2. Chang Wufei - I want to finish him, and he's so much fun! Plus he will allow me to stay in the YOTA SAL. I'll show you an update soon (is tomorrow YOTA?)
3. Cut-Thru Princess Palace - I refuse to give it up, lol!
4. QS Nostlagy - I'm going to work her instead of Lovers for IHSW, until she's got the equivalent of a page finish, for the HAED BB SAL. Then it's back to Lovers.
5. Oops/Stocking/Sprite - whatever small project that I happen to put in my purse on that particular day.
6. Open - I will be rotating other projects through this spot - it may be enough to keep me in the Turtle Trot SAL but I'm not sure.
Some other things:
Since I've had to cut down on my crochet time, I've picked up a few older crafts that I used to play with a lot - one is
kumihimo braiding
- I used to do this before it became popular in those friendship bracelet kits - I used to make my 'wheels' out of old cardboard. I have to admit, buying a kit and using the 6-8 wheels they come with is a lot easier! (They wear out pretty fast, though - my best record is five braids on one wheel)
I've done all the basic designs before - hearts, flowers, diamonds and stripes, but I never once thought of a picture. I also used to make up designs - not easy with just pen and paper, but now there are several online sites that give you a visual of what your pattern will look like.
I make my braids into keychains - and yeah, okay, they can go around your wrist. They're pretty loose, though. Here's a burgundy and white one in the 'heart' design I'm making for my mother - all the designs for a 16 strand braid (called Kongoh-gumi, usually) are spiky. There are no real curves, but it does look sort of like hearts. You can see how worn the wheel is getting and this is the second braid I've done on this one. (Ignore the printed colorways; I'm doing my own thing, lol!)
And this is one of my own ideas - I call it 'Ember'. I was trying to make it in flame colors. It's four diamonds in red, orange, yellow, and black. White might have been better but I didn't like the way it looked. Here's the tiny start, front and back. When it gets a little longer, you roll it between your hands to make the pattern lay 'straight'.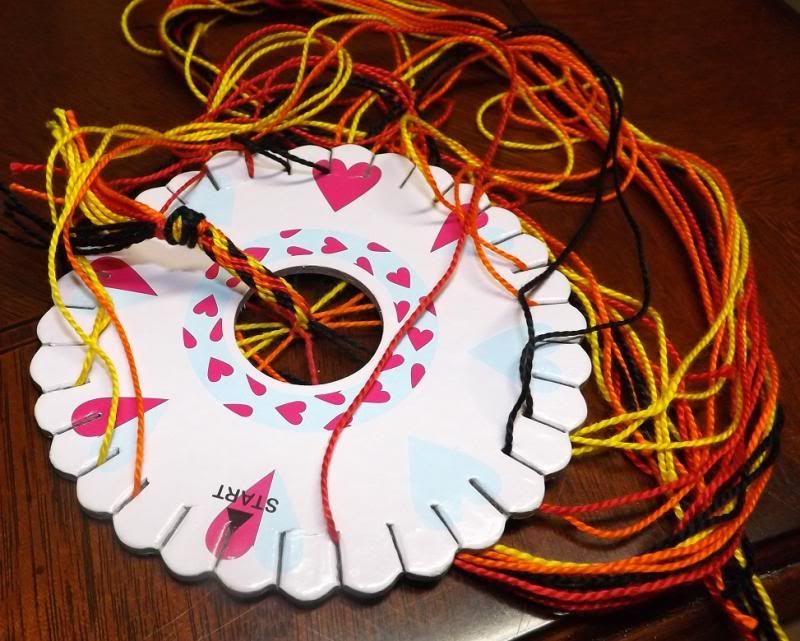 These are pretty easy, if you're interested - they sell the beginner's kits at Hobby Lobby, I know, already threaded for a single-diamond pattern. Be warned, though, every kit I've ever found that comes pre-threaded has the knot facing the wrong way - take it out and make sure it's
behind
the wheel. Or you'll get a very short, knobby, inside-out stump of a braid. The beginner kit with one wheel is two dollars.
I'll be back soon - off to check and see if YOTA
is
tomorrow!