I finished Stocking Ornament #24 of 30 on Monday - this one is (obviously) Baby Jesus.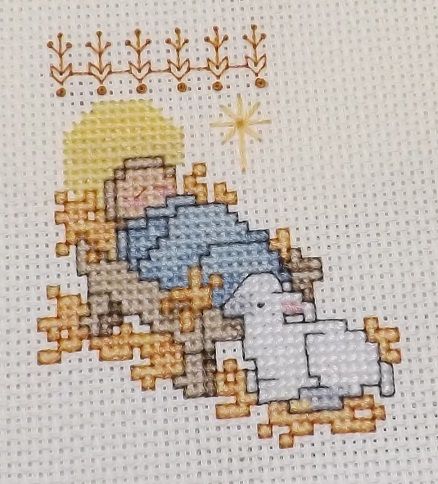 Isn't the lamb cute? I love how the designer gave some of these such a subtle stocking shape! If it wasn't for the decoration at the top, this wouldn't look like a stocking at all, at least to me.
I ran into a problem when I decided to look at the finishing instructions for these - I used the size of fabric that came in the kit, although I swapped the huge piece out for smaller, already-cut bits I had. However, the template for cutting them, and cutting the felt backing, is
tiny
. There are no instructions to increase its size but there is no way they are going to fit. Even if I had used 18 count instead of 14 count. Maybe 20 count would fit.
You can just color me completely confused.
Anyway - Wednesday I worked on 'Oops' while I was at work (four extra shifts this week! Eek!) and I stitched all the leaves. Today I stitched the wee mousie that's hiding in the basket, and backstitched all the leaves and most of the stems. I want to get the basket backstitched before I show a picture of that, but here's the leaves all stitched up!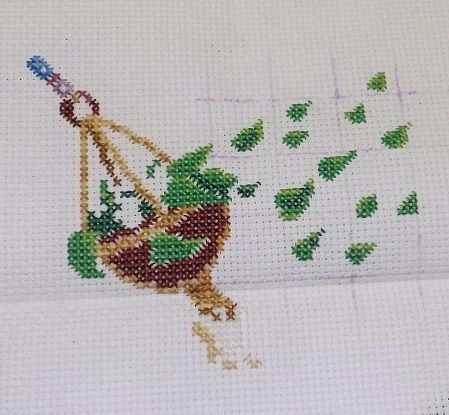 And for the fun of it, another HAED! This one is from an old layaway, I forgot to show it:
The Gardener by Alison Spokes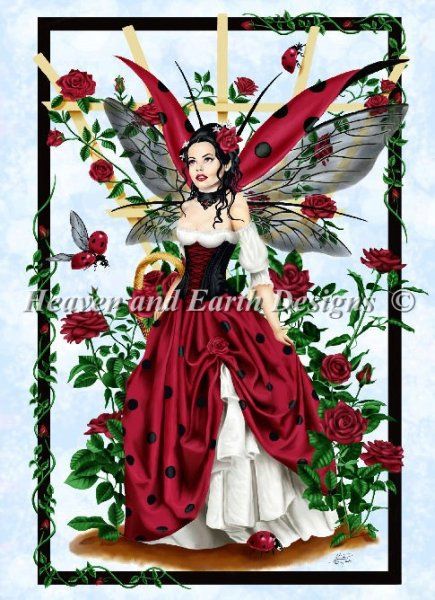 This is the 'mock-up' in virtual stitches - the detail looks great to me! The background is sort of patchy, but I'm pondering stitching her one of those fabrics dyed to look like a cloudy sky. I used to adore ladybugs, and I do love a garden! So she was an easy pick for me. (Too many of them are easy picks for me - lol!)