There is a local church here that has yard sales to support their building program - they are currently building a youth center and soup kitchen that has the whole community excited, because part of rural living includes the fact that things like that? The nearest youth center where kids can go to play basketball is over fifty miles away. A soup kitchen? Even further. So anyway, churches from other states send stuff here, and they sell it, and sometimes it's really awesome stuff! At the end of the 'season', as in it is
too cold
for yard sales any more, there is a box sale.
Pay $1 for a little box, $5 for a medium box, or $10 for a kind-of large box, and then you can take home whatever you can fit in the box, as long as the lid closes. Last year I bought one $5 box and regretted it - by the time I went back to get a $10 box, all the good stuff was grabbed. So this year - Monday, to be exact! - I got a $10 box straight off. Here is my loot!
A really gorgeous big basket, a smaller 'bread' basket, five skeins of white/metallic baby-sport yarn, two extremely heavy glass goblets, some little knick-knacks, a baggie full of old-fashioned metal shower curtain hooks, two brand-new boxes of Christmas cards, several baggies full of painted wooden beads, a very fancy game box for a game I don't know how to play, a brand-new set of measuring spoons, and a pack of paper dishes like you'd get at a fast food booth at a fair. Those I will be using this summer when Dad grills. I also managed to stuff in an old-fashioned, padded sewing box and a snowman music box, but I left them in my car, apparently. So there will be one picture for next week!
Thanks for the comments on the 'Red' post yesterday - the berries were easy pictures but it took me 13 shots before I could get the red afghan to look anything close to its real colors! My Mum had to hold it in the shadow of her house for me :D Blogger isn't letting me respond to comments right now. I hate it when it does that.
Here's a closer look at some of my treasures: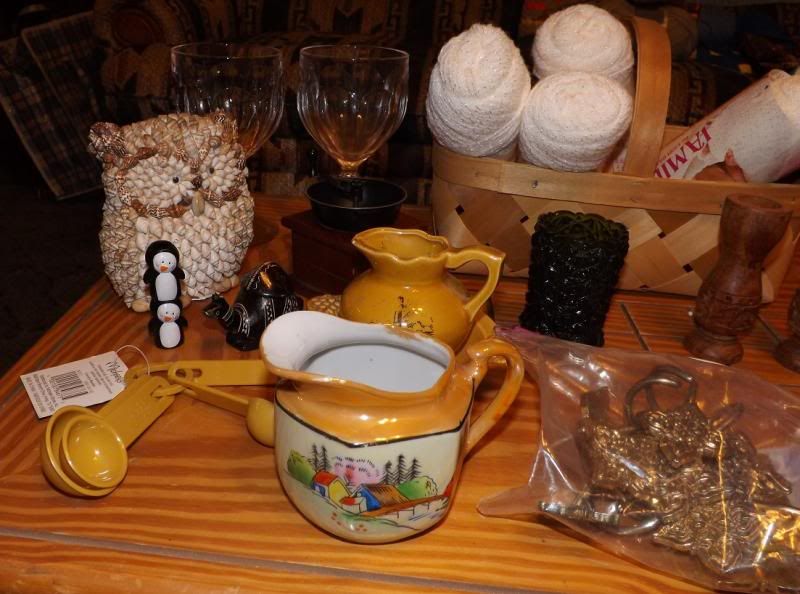 I would have taken a picture of the box, but they were running out so I put the stuff in my car and gave my empty box back! Those penguins are a tiny wooden candlestick, and that weird dark glass thing is actually a medium green - maybe a vase? I'm not sure, but it is pretty!