Namely, my QS Lovers.
I didn't get much done, since Saturday and Sunday are the busiest days of the week for me, but here's the little bit I did get done: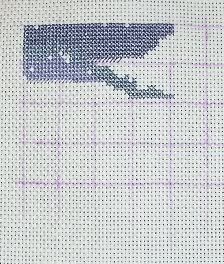 Three shades of grey for the background/sky.
And the pattern pic, since it's been a tiny little while:
I think this will be my IHSW project all year long, just to see how that goes. Maybe I can actually finish one whole page, lol!
*EDIT*
Forgot to add my TUSAL pic, with my new (rather old) ort jar posing with some filled ort jars.