On Day One, the Goth Chick drew 'Mudkip', which is for her.
On Day Two, there was nobody else around so I drew one myself, and it was 'Gothic Hello Kitty' from
Hazel's Farm

Which is for the Goth Chick, who is very fond of Hello Kitty.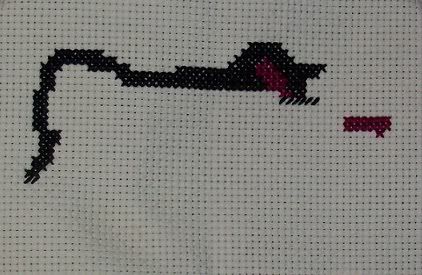 Not that much of a start, because I felt like working on Fred that day.
For Day Three, I got my Mum to draw one. She pulled out 'Cats Have Slaves'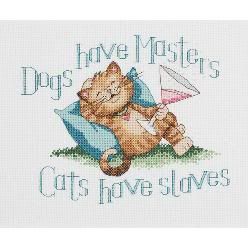 This happens to be for the Goth Chick's husband, who is one of the few males I know who is unashamedly in love with cats. Three projects in a row for the Goth Chick's new house! (She's moving in May, probably). It's a conspiracy, I tell ya!
That's my progress. There were a lot more fractionals than I expected for a Janlynn kit, especially with that 'V' in 'have'. And the pic on the front of the kit was nothing like the chart. I hate that. My finger is sore, from shoving the needle through aida. But I like the way it came out. And my love affair with my marking pen continues. I love it
so very much
!!! My brain would have died if I'd had to count over for 'Dogs', and I would have had to frog several times, I know. I've done it before.
Wonder what tomorrow will bring?
Another
for the Goth Chick?