I took a look back through my blog, and I think the last time I posted about poor Mary Wigham was in 2011. I stitched another set of initials since then, but nothing else.
Yesterday I added a motif - this lovely half-motif in black and blue. I had to tweak it a lot - I'm not stitching this as an exact replica, since I'm using my own choice of initials and so I've been fixing the mistakes as I go because I kinda like symmetry. Sometimes the mistakes are little, and I don't worry about them, but this motif was all kinds of messed up. I didn't realize it when I stitched the top half, so it's the bottom half that got fiddled with the most. I couldn't fix it perfectly without moving the motif over and down a bit, and I didn't want to have to adjust the whole rest of the sampler, so it's as I could, and not quite as I would. But I'm happy with it.
I may stitch another motif this month, but I will definitely stitch another next month. When I do, I'll take a picture of the whole project.
I've now paid off all of my HAED layaways except for the newest one - yes, I put some more on during that Valentine's sale! I couldn't resist... I think stash-buying is a disease. But I have 'til May to get it paid off. In the meantime, here's another from one of the earlier layaways - another of Dahlig's Sins.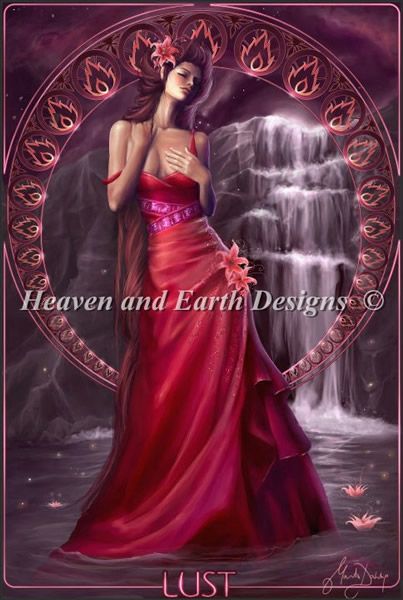 She's far from being the last of the new patterns! I'm not getting any more for a while unless they have a sale of at least 35% off. Even then I think I'll just knock one or two of the QS patterns off my wishlist.