I completely forgot about a stitch-a-long I joined called YOTA - you can see the details
here
.
I went back to my little notebook and saw I had marked Wufei down for it before I joined the Turtle Trot - but I decided to just leave it and use Wufei anyway, since I'd like to get a lot done on him this year. There's a spot on my wall calling for him to be done and framed :P
These are the newest pics I could find of my progress - it's been
quite
a while since I worked on him!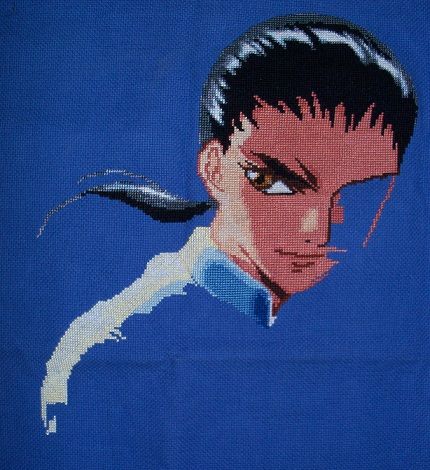 Chang Wufei (sometimes it's capitalized WuFei) is Pilot #5 from the anime
Gundam Wing
. I made the pattern with an old version of PCStitch. I'd like to do all five Pilots someday, although not all this big, but Wufei is my favorite.
Anyway, this time next month I hope to have some real progress to show! He's got a lot of easy big blocks and some intricate bits in the other half of his face, so he'll keep me amused. His hair was the hardest part, and that's long done.