I haven't been cross stitching much, for two reasons.
1 - I don't feel all that great. I can't shake this cold/flu/virus/whatever.
2 - this:
All the squares are done, edged, and I'm in the midst of blocking them because the medium-sized squares like these always seem to curl. Smaller, they lay flat. Bigger - like afghan sized - they lay flat. 12 inch squares? Completely curly. You can see the difference in the little stack of done ones, right?
There's only water in the spray bottle - pin 'em to the towel-covered cork board, spritz 'em, and when they're dry, they're mostly flat and lovely. If only my cork board was bigger! Next step is to sew them all together.
Another HAED - Soldier Boys by Tracy Butler.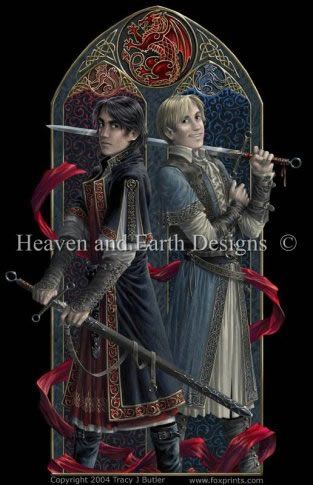 Handsome fellows, aren't they? They make me think of the Harry Potter universe, only not Harry and Draco. A younger Severus and Lucius, maybe, if they were dragon-warriors?