Alternate Title - 'How I Did Not Stick to My Plan'
Here's QS Lovers after a small amount of love on Thursday and Friday evenings:
I was going to just focus on his face, but I printed out the other pages and thought - well, there's the
rest
of his face... and his neck... and so my plan to get his face (at least from page one) done this turn went right out the window. I also added to her neck and his hand.
Friday, Saturday and Sunday I had to work, as always, and at the busiest of my job sites, so I didn't want to take a HAED. I thought I'd take along the two Sprites I wanted to finish, and see how I could do on lunch breaks. But I somehow managed to abandon that plan, too, and just start filling up the bit of material with black outlines.
Like so: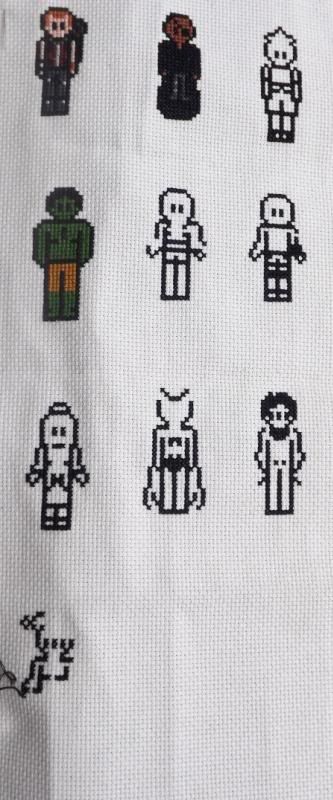 I must not have been paying the least bit of attention, because they don't line up at all. The three Avengers were already done - I've stitched four Final Fantasy outlines and two and a partial of the Batman ones. There's room for two more Sprites on this piece (they'll eventually be cut apart) and the Joker will go after Harley. I dunno who the last one will be. Maybe Rinoa and the dog.
I also got my Mosaic afghan from 105 repeats to 120. Only ten left to go before the edging! Yay!
Since I showed off some work on a Nene Thomas pattern, here's another of her's from one of my HAED layaways. This is 'House Divided'. That dress is going to be sooooo very gorgeous!