Wow - I'm barely making it!
Here's my first TUSAL pic -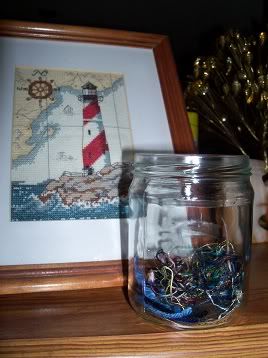 Not much in that jar just yet.
I've always saved my orts, so the jar is nothing new. Here are two of my older jars, sitting prettily on a shelf. They're very sparkly in real life.
The TUSAL should be fun if I can keep up with it - and it will add to my jar collection, right? I do need to scrub the sticker residue off!
Today's start was 'Amish Quilted WallHanging' from a Cross Stitcher magazine. I don't remember the date. I won't be making it into a wallhanging - maybe a pillow, though. I love the colors, they're actually very bright.
I still have a cold, so after work I slept and then had dinner at my parents. This made stitching time non-existant and I only got two lengths of floss into the project. But here it is, such as it is!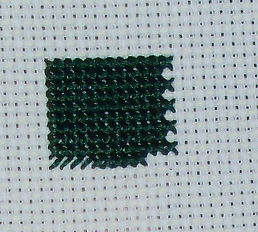 I'll work on a WIP for the 'Up for a Challenge' tomorrow - I didn't have time today.
Later, dears!
~Tama