A while ago, I started stitching a set of little Winnie-the-Pooh pics for my baby sister.
(By a while ago, I mean when she was small and interested in Pooh. She is now
married
.)
Anyway, I stitched the Pooh and Piglet from this set - please excuse the blurry pic.
I lost interest in cross stitch for awhile. Now I'm finally starting Eeyore... he should be a quick stitch, provided I have time to stitch him. The third of the month is
deadly
at my job... too busy to breathe!
But here is his start:
And here is the WIP challenge piece for today:
And how it looks after this evening. I couldn't find the previous pic, but there's a very small one on my sidebar. I had a bit more than that done - the dolphins were finished except for backstitching, and I had started the coral. But I'm happy with my progress: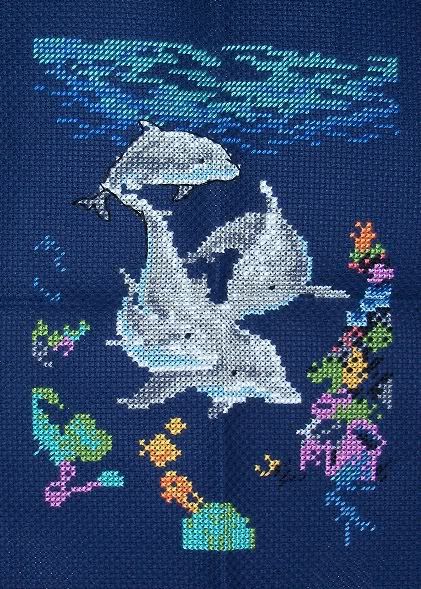 This 5x7 kit has been in progress for an embarrasingly long time. Since 2000, to be exact. Yikes. It's had a lot of mistakes, frogging, frustration, and being lost for several years. But this year, it's going down!
Until tomorrow!
~Tama