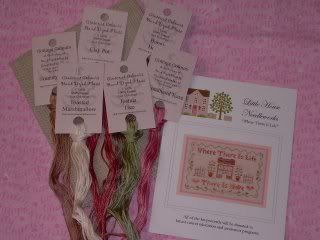 For a good cause, too!
Go look at the contest
here
And the pink background pic is the prize.
Just scroll down a bit. It's for a kit from LHN called 'Where there is life'. I have an Aunt and a close friend who are survivors and I'd love to stitch it for either of them. I also think I'll track down the group that's doing the quilts and see what their stitcher-requirements are. I've never done charity squares before, I've always been too worried I wouldn't get them done on time, but I'd like to try this one.
Other things - I've added some patterns to my 'Trade' album on webshots. Mostly motif patterns. Here's the
link.
Well, back to stitching on my kit! I've only got two lengths of floss in it so far - bad me!
~later~
New Mirabilias!!!
I'm not too fond of the pixies, probably because they have no faces - but I love these two! They even make me want to get the others! They are Tiger Lily and Poppy. For those who haven't seen them yet, here they are!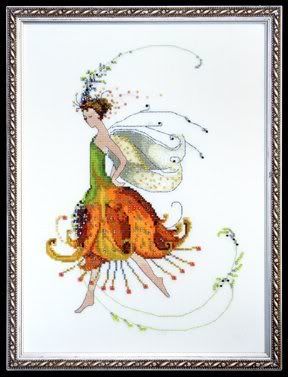 And this pic is my latest stash - my brother talked me into going to the store 'real quick' - the same store where I got my new kit of the puppy on the pillow - last time all they had were a few kits on clearance - this time they had lots! I got all the small frames for 25 cents a pack - marked down from $1.99! The little kits were only a quarter too. I'll be using them for those occasions when someone wants to try to stitch when they see me doing it - this has happened to me before! One wanted to try it with my Mirabilia Archangel! Eek! And I got the smiley kits just because I love smileys...