Taking a break from all the letters for a Turtle-Trot post!
The Turtle-Trot SAL is to choose 13 slow Works in Progress and post about any progress you made on the 13th of the month. You can join at
BAP Attack!
if you are interested. By the way - if you think I have a lot of WIPs? You've seen
nothing
until you've seen hers!!!
Here's the ones that got a bitty-bit of love this time around - I've been drowning you guys in so many pics that I thought I would just keep it to one picture today.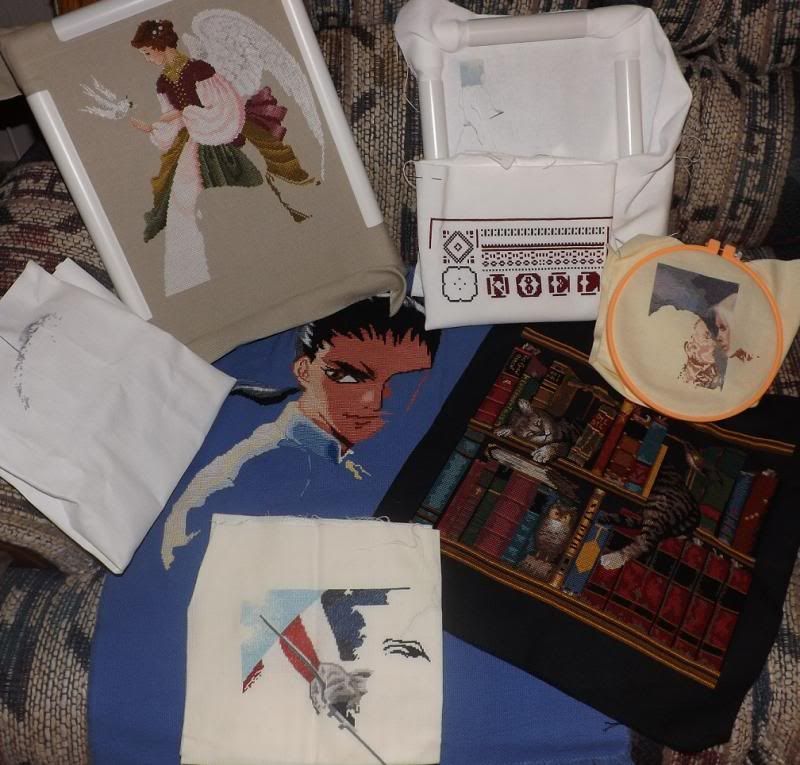 Let's see - Angel of Grace got a tiny bit of ribbon, Snowing got a whole grand 50 stitches or so! Celtic Christmas got the green of the next motif done, Lovers got a good bit of skin... That's Erestor on the left, he got about four more colors started! Wufei probably got the most - I went way down his sleeve with three different colors and did some more on the other side of his collar. Fred got his backstitch started, and finally, Gettysburg has some currently completely invisible white stars and flag stripes added.
So I did not make my goal of at least one needleful on each 13 projects, but 8 is still the best I've done so far! I will show more detail on some of these after the A-Z challenge is done.
Have a great weekend, or what's left of it!