Okay, so this post is not as imaginative as some of the others - K was a little hard to think 'outside the box' for!
I won't show you Frederick again, since he was just featured in letter F. I also have the kits for
Maggie the Messmaker
and
Too Pooped to Participate
, by Wysocki. I really, really wish they would make kits for
Ethel the Gourmet
and
Mabel the Stowaway
! I don't own
Max in the Adirondacks
yet, or
All Burned Out
. Max I keep forgetting about, and All Burned Out is Needlepoint, which I don't know how to do - yet! There are two other Wysocki cats pictures that I have seen but don't know the names of - two pretty cats in an herbalist shop and one asleep on a box of seeds.
Here are some kits I do have of lovely kitties, though:

Leonardo, Warm and Fuzzy Kitten, and Captivating Felines
And a small finish:
There are a few other small cat finishes in my collection, but this is the most recent!
I have several Kitten patterns from
WitchyKitt
(formerly Witch-Stitch-n-Bits), but I'll just show the picture for the one I have in progress - Snowing: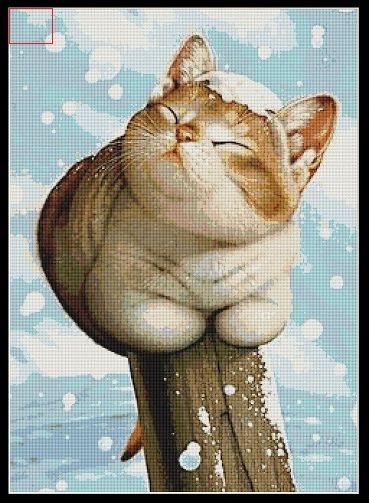 Which is going very slowly as I'm trying to learn parking with this one, and I don't stick to it long enough to gain any kind of speed! The red square is what I had done a little while ago. I'm past the bottom of the snow-circle now. WitchyKitt, by the way, is having a sale! 20% off their already cheap patterns!
Lastly, I'll show this kit, that I bought at JoAnn's on that last trip :D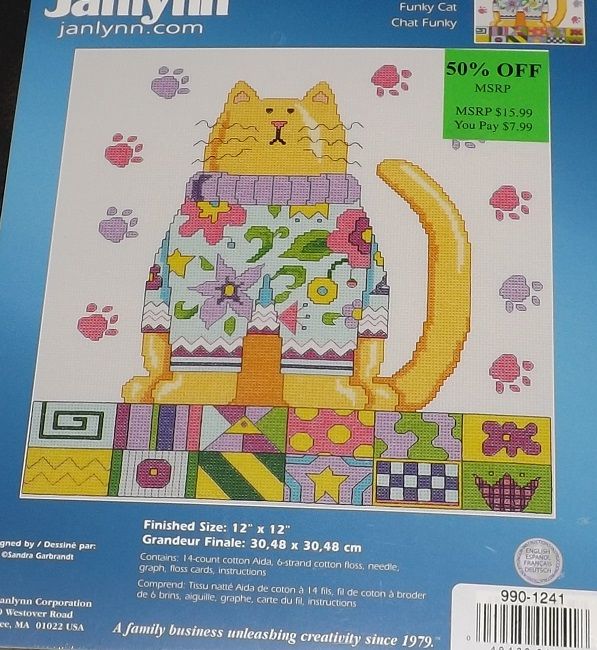 Funky Cat! Who can resist a shiny cat in a crazy sweater? Not me, obviously!